Report: Stan Van Gundy in talks to take over Pistons operations
The former Magic coach went from potential Warriors coach to potential czar of Pistons quickly.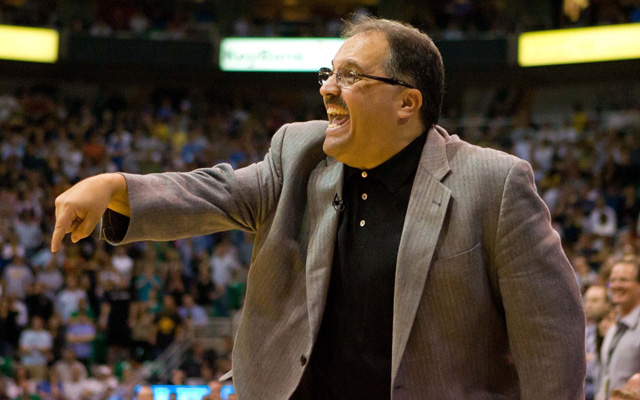 More: SVG to bring Otis Smith to Detroit?
Update: The Detroit News reports that the deal could be done in the next 24-48 hours: 
NBA source: #Pistons, Van Gundy, close to a deal. Could be consummated in the next 24-48 hours

— Vincent Goodwill (@vgoodwill) May 13, 2014
On Tuesday morning, reports surfaced that Stan Van Gundy and the Warriors were closing in on a deal for Van Gundy to take over after Golden State fired Mark Jackson two weeks ago. 
Talks intensifying between Warriors and Stan Van Gundy, per sources. Van Gundy now Golden State's clear top choice. Moving towards a deal.

— Chris Mannix (@ChrisMannixSI) May 13, 2014
Then, inside of an hour, everything changed. First, the San Jose Mercury News reported that talks weren't moving quite that fast, at least not anymore. 
Stan Van Gundy could and may yet end up as the Warriors' choice. But it sounds like there are steps to go on this.

— Tim Kawakami (@timkawakami) May 13, 2014
Then Yahoo Sports broke the news that the Pistons had jumped into the SVG pursuit with a trump card: complete organizational control over basketball operations. 
The Detroit Pistons are pursuing Stan Van Gundy with a lucrative offer to assume complete control of basketball operations and coach, league sources told Yahoo Sports.The Pistons are trying to compete with the Golden State Warriors, who are aggressively pursuing Van Gundy for their coaching position.The Pistons had also expressed an interest in Steve Kerr in a GM-coaching role, but he's focused on trying to reach a deal to coach the New York Knicks, league sources told Yahoo Sports.
via Sources: Pistons want Stan Van Gundy to coach, run basketball operations - Yahoo Sports.
Is that what SVG wants? The SJMN says yes: 
NBA source: Stan Van Gundy told the Warriors he wanted total control of basketball decisions. They declined. He could get that in DET.

— Tim Kawakami (@timkawakami) May 13, 2014
This has long been the most logical route. Van Gundy has worked in frustrating situations in Miami where he had little control over how the organization was run, and his abrasive approach with coaching means he might feel he needs the option to control the direction of the team and its personnel. Meanwhile, Detroit badly needs a total makeover and someone with authority to come in and restructure the team, and their owner Tom Gores has been aggressive in wanting faster results. 
The Warriors' top brass has a wide-range of influences from GM Bob Meyers to Jerry West to owner Joe Lacob's son Kirk. There's a lot of cooks in that kitchen, something that may have led to the conflict with Jackson. 
This situation seems to be evolving rapidly. 
Another day, another social media beef for Embiid

We have all the latest scores, highlights and news from Wednesday's NBA games

Thomas spent a day with a 10-year-old girl whose family is also new to Cleveland
Barkley did not hold back with his opinion of the Big Baller Brand patriarch

LaVar Ball also made it clear he thinks his sons are being placed in 'a great situation'

The Thunder are just 12-14 on the season, despite the addition of Paul George and Carmelo...