Report: Stan Van Gundy met with Josh Smith, trade still possible
Pistons President and head coach open to trading star forward.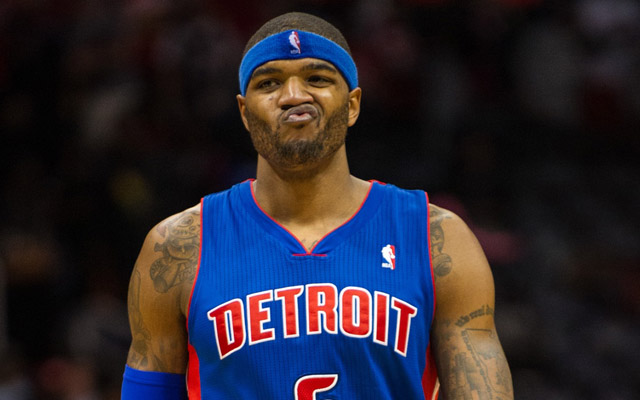 More Offseason Analysis: Updating Free Agency news | Free Agent tracker
The Detroit News reports that Stan Van Gundy has met with Detroit Pistons forward Josh Smith, but hasn't made any commitments about keeping the wing bigman after Smith signed a massive contract last year with Detroit. 
SVG has met with Josh Smith and hasn't made any promises about keeping him. He'll move Smith but he wants value

— Vincent Goodwill (@vgoodwill) July 17, 2014
Smith is the source of a major clog for the Pistons. He complicates the play of Greg Monroe, who's a restricted free agent hanging in limbo at the moment. We broke down the situation in detail but Monroe is so unhappy playing next to Smith his agent has reportedly threatened to have Monroe sign the qualifying offer which would make him unrestricted next season.
He's also a hyper-inefficient forward who refuses to accept his inability to shoot from the outside. So he doesn't make the team better, doesn't play well, and oh, he's making $13.5 million each season for the next three years. 
So, yeah, Van Gundy's probably looking around. 
There's really no way of knowing how this works out. The Pistons may simply be unable to move either one of Monroe or Smith, let alone both, and may have to try and play their way out of it. But the situation seems untenable, and that's why SVG is keeping his options completely open. For fun, here's his shot chart via Nylon Calculus: 
The NBA All-Star Game is here. Follow our live updates to keep up with the action

Bryant says he was looking at schools in Chicago and was ready to meet Jerry Reinsdorf and...

The 76ers guard is in hot water after a controversial video surfaced showing him using a racial...
James Harden is the only player representing the best team in the NBA

Adam Silver sees a 1-16 playoff as a real possibility in the future if they can figure out...

Galin Dragiev is SportsLine's No 1. NBA expert and locked in a pick for Team LeBron vs. Team...