Report: Stephenson turns attention to interest by Mavericks, Lakers
With Indiana hesitant to give Stephenson a big-money contract, the temperamental sub-star is looking at his options.
More Offseason Analysis: Updating Free Agency news | Top 40 free agents
ESPN reports that Indiana Pacers free-agent guard Lance Stephenson is exploring options after hitting an impasse in negotiations with the Pacers, and that two Western Conference teams, the Dallas Mavericks and Los Angeles Lakers are among his suitors. 
Although his desire is to remain with the Pacers, a disappointed Stephenson began exploring the free-agent market after receiving what he felt was a low-ball offer on Tuesday, sources said.

Stephenson has drawn interest from the Dallas Mavericks and Los Angeles Lakers, although both teams have other free agents prioritized above Stephenson, according to sources.
via Lance Stephenson, unhappy with Indiana Pacers, explores free-agent market - ESPN Dallas.
The Mavericks are looking to make a run and have likely struck out with free agent Carmelo Anthony. They are uninterested in Chris Bosh and don't appear to be in serious contention for LeBron James. So they're going to need to make a run around Dirk Nowitzki's new $10 million per year deal, Monta Ellis' $8.4 million deal, and Tyson Chandler's $14 million which they traded Jose Calderon for. That's $33 million right there, and with Stephenson looking for more than a reported 5-year, $44 million deal, that could eat up some cap space. 
At the same time, Stephenson would give them a versatile defender and scorer, and guys with knucklehead reputations (Monta Ellis, DeShawn Stevenson) have thrived under coach Rick Carlisle. That would be a pretty shrewd sneaky-big signing by the Mavs. 
The Lakers have almost no one on roster besides Kobe Bryant, and Bryant has historically been cool with guys like Stephenson. As long as you play hard, which Stephenson does, Bryant is generally supportive. Even Andrew Bynum, who didn't play hard, was treated well by Kobe. He would give Bryant a wing scorer to take the load off and handle the defensive issues, and if Steve Nash were miraculously healthy, those two could be great together. 
Stephenson has huge questons because of his attitude, but is still a top free agent left on the market.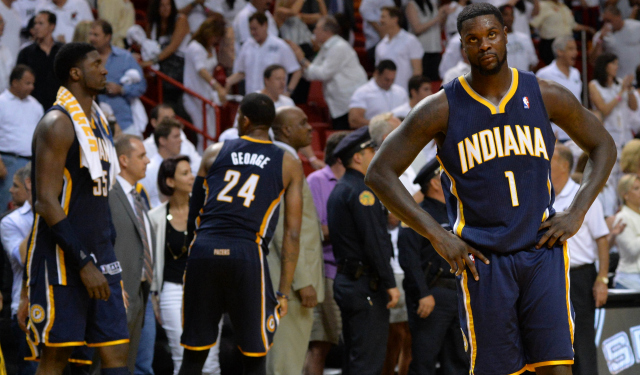 The former Slam Dunk Contest champion will take his talents to Tri-State

Do NBA players have look-a-likes from famous paintings? We found out on the new Arts & Culture...

Larry Hartstein is on quite a run in picks involving the Suns and the Trail Blazers
Rodman's agent says he is urging the ex-NBA star to check into rehab

The players and referees are working to fix a relationship that has recently been deterior...

The locker room heist is going to lead to plenty of fines and maybe some suspensions from the...