Report: Stern reconfigured competition committee to push rule changes
A report indicates David Stern was behind the reconfiguration of the NBA's committee on competition in order to help get rule changes made.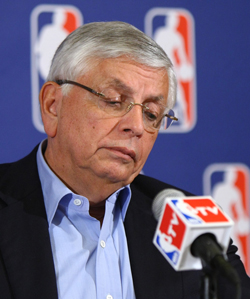 David Stern wants some rule changes passed.
(Getty Images)
David Stern still runs this game.
With the end of his run as commissioner approaching and after a grueling lockout that had everyone questioning his authority, his control over the owners, and his morality for some reason, no one has known whether Stern would quietly exit the game or be aggressive in finishing out some of his initiatives. A report indicates the latter, pretty strongly.
Bottom line: Stern reportedly wants two rule changes -- adoption of the international goaltending rule and more brisk penalizing of floppers -- and has put people in place who will get it done.
Last week the NBA announced changes
to its the committee. Formerly made of the 30
NBA
GMs, that committee was reformed as the General Managers Committee. (Not one for clever names, the NBA.) The new Competition Committee is made up of two owners, four general managers, three coaches, and a representative from the NBPA. The first members were announced as
Cavaliers
owner Dan Gilbert,
Warriors
owner Joe Lacob, GMs Bryan Colangelo (
Raptors
), Mitch Kucphak (L.A.
Lakers
), Sam Presti (
Thunder
), and Kevin O'Connor (
Jazz
), and head coaches Lionel Hollins (
Grizzlies
) and Doc Rivers (
Celtics
). The NBPA representative hasn't been chosen yet. 
So this seemed like an interesting wrinkle, but passed by without much consternation. Then the 
New York Daily News
 reported Saturday that Stern was behind the changes, and for a specific purpose: 
"Stern is looking for more control," said a source. "He hasn't been able to get some things done because he's had to deal with 30 general managers and he can't control them. But now he has his people on the committee."

Stern's new committee is expected to work on two major rules changes right away: Adopting the international rule for goaltending, meaning that balls could be legally knocked off the rim or backboard that now would result in a basket; and penalizing "floppers."

Stern has talked to GMs in the past about changing the goaltending rule, but never got anywhere. But now he'll have a more receptive group to consider what would be a dramatic change in the defensive rules.
via NBA GM's lose power with the announcement of a new 'competition committee' that also includes owners and coaches - NY Daily News.

The goaltending call can have a huge impact defensively. The league is short on quality big men but long on shot blockers, especially athletic weak-side guys that swat anything. Given how many basket interference calls there are, this would change quite a bit. The league has already struggled with a scoring dip recently, but that may simply be on account of the lockout.

The flopping issue is a major concern in media right now. For some reason, the rampant flopping that went on in the mid-00's is being overlooked as apparently the new streak found specifically on the Clippers and Heat are a pox on the league. But despite the fact that some of this is intellectually dishonest, Stern's been on this hunt for years, and no real fan is going to be unhappy with rules that prevent the ridiculousness that goes on. Fewer stoppages and less acting makes the game faster and more true. 

Stern isn't through making an impact on the league that he's made his life for the past four decades. He's not going quietly. He's still going to work to try and steer the league where he thinks it should go. Out like a lion, so to speak.  
We've got all the scores, highlights and news for Thursday night

The Sixers big man got his first All-Star selection -- and maybe some revenge -- on Thursd...

It appears some players are not entirely taking the All-Star voting process seriously
There were some weird discrepancies between the fan, media and player votes

LeBron and Steph will be the captains for the 2018 NBA All-Star Game

Arron Afflalo was involved in an altercation with Timberwolves big man Nemanja Bjelica on...