Report: Steve Kerr seeking five-year, $30 million deal from Knicks
Analyst former NBA player and GM reportedly asking for five-year deal at similar rate to what Mike D'Antoni received.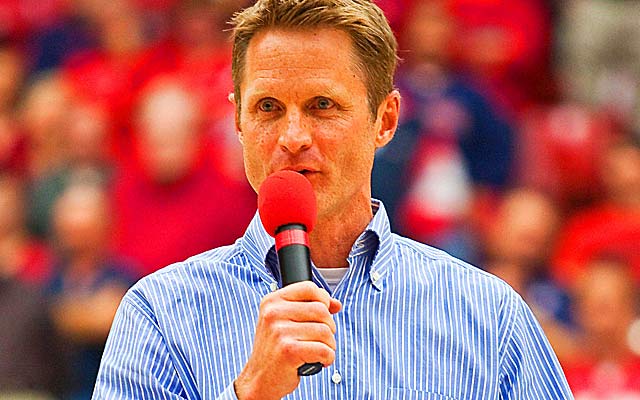 More NBA: Season Awards | Grades: East | Grades: West | Seasons in Review
The Knicks continue to zero in on Steve Kerr as the new coach under Phil Jackson. Kerr has said publicly he wants to finish his responsibilities with TNT for the playoffs, but the negotiations are continuing. The New York Post reports on the specifics of what Kerr is asking for: 
Kerr's agent is Mike Tannenbaum, the former Jets general manager. It is believed Tannenbaum is seeking a five-year deal for Kerr, the same length as Jackson's.

It is also believed Kerr is seeking a similar financial deal as Mike D'Antoni had when he inked a four-year, $24 million pact with the Knicks in 2008. Jackson and owner James Dolan might have to overpay to get Kerr to move across the country.
via Knicks OK with Kerr finishing TNT duties | New York Post
So five-years, $30 million? For a first-time head coach with no prior assistant coaching experience who hasn't been actively involved in league operations for three years? To basically do the bidding of the Zenmaster, teaching a complicated offense with no sustained  history of success without at least arguably the best player in the league playing for them? 
Sounds about right. It is crazy that Kerr could potentially get as much as D'Antoni, who when he signed with the Knicks in 2008 was coming off a highly successful run in Phoenix. It shows you how much interest there is in a guy with nothing on his resume to prove he can do this. There's just a substantial amount of leaguewide faith in Kerr's ability to be successful in this role. 
Multiple reports indicate that Kerr is likely to turn down the Warriors' interest in him to work under Jackson. 
A report last week indicated Charlotte is looking to move Walker, along with one of its hefty...

Barea responds by claiming that none of Wall's teammates like him; the Wizards continue to...

Cousins finished with 44 points, 24 rebounds, and 10 assists
Love left Saturday's game, which the Cavs lost 148-124, due to illness

Kidd was fired by the Bucks on Monday afternoon

We've got all the scores, highlights and news from an NBA Monday