Report: Suns F Michael Beasley cited for traffic violations
Michael Beasley cited for multiple traffic violations. How did he not get arrested?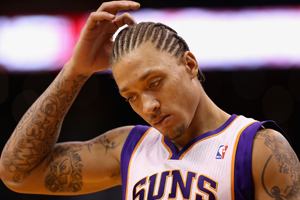 Yup, it's a head-scratcher.
(Getty Images)
The Internet, by and large, is a mean and skeptical place. In general, there's a move, especially among sports blogs, to assume the worst about people. But as sports fans, you want to hope for the best. We hope Greg Oden can get healthy. We hope the Bobcats can turn things around for once. And we hope Michael Beasley can find some maturity.
The Suns put their faith in Beasley along with $18 million over three years. And while he had a brief moment of progression on-court vs. the Lakers last week, it appears that off the court the same issues might exist.
From ArizonaSports.com: 
According to a report obtained through a FOIA request, it has been learned that Suns forward Michael Beasley, on January 25, was pulled over by Scottsdale Police due to speeding down Scottsdale Road at about 1:10 a.m.

He was cited for driving with a suspended license, driving with excessive speed, driving with expired registration and failure to display a license plate on the rear of the vehicle. Driving with a suspended license and excessive speeding are criminal traffic violations, whereas driving with expired registration and failure to display a license plate are civil traffic violations.

The report states the officer placed Beasley in handcuffs and arrested him, but decided to release him at the scene due to his cooperation.
How was he not arrested? 
I mean, look at that list: suspended license, expired registration, no license plate, and he was speeding? No one was hurt, but it's yet another sign Beasley hasn't turned the corner on his maturity issues.
Leonard's relationship with Spurs also reportedly strained because of how injury has been...

San Antonio hasn't missed the playoffs in 20 years, but the road is rocky this season

Last year's MVP finalist has missed all but nine games this season
The design for the patch is still being worked on

The explosive forward and upcoming free agent is having a career year

Cuban said on Dr. J's podcast that losing is Dallas' 'best option'