Report: Suns meeting with Michael Beasley, Raymond Felton
Michael Beasley and Raymond Felton will meet with the Suns as free agents.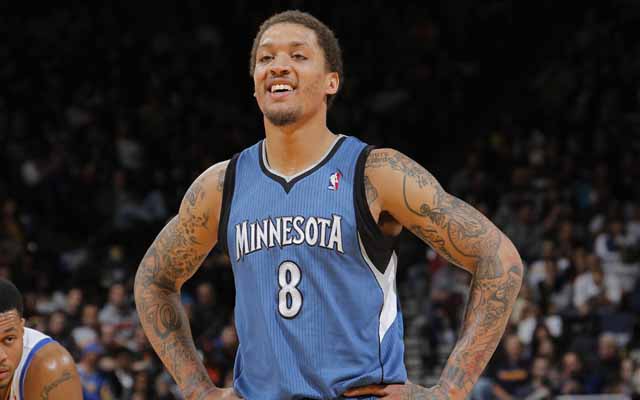 Michael Beasley will visit with Phoenix.
(Getty Images)
The Suns have an offer out to Eric Gordon, which the Hornets may or may not match. They are working on a sign-and-trade of Steve Nash for Iman Shumpert. And they've got multiple players coming in for free agent visits. What kind?
While the Nash saga continues, the #Suns will push for a Michael Beasley commitment today and host Raymond Felton tomorrow.

— Paul Coro (@paulcoro) July 4, 2012

Now that's a different approach.
Felton of course was an outright disaster in Portland, after being traded there from Denver in a draft-day deal last year. Felton honestly has never recovered from being traded from the Knicks just as he had started to really mesh with the team prior to the Carmelo Anthony trade. 
Beasley had an uneven season in Minnesota, sometimes putting up huge numbers in one game and disappearing in others. It was clear that he was not part of the Wolves' long-term plans early on. Beasley's the kind of player who can score huge points but never seems to be able to do so efficiently or in a winning context. Then again, he's still very young and if he finds the right coach he could click. 
But if the Hornets match for Gordon, and the Suns are unable to acquire a point guard or star to truly put the team together, is this the team that they want to build around long-term? Raymond Felton, Michael Beasley, Channing Frye, and Marcin Gortat? The Suns are in danger of putting themselves in a lottery purgatory for several seasons. Felton can still excel in the right situation, Beasley can still score at a high level. But looking at the whole approach, if they don't land Gordon, you have to wonder where they're headed. 
It'll sure be entertaining, though. 
Check in throughout the night for the latest news and highlights from NBA games

The Lakers legend details why the NBA popularity will continue to rise

SportsLine's Mike McClure, a DFS pro with more than $1M in winnings, gives optimal lineup...
If the Thunder forward doesn't know the reason, he has a very short memory

The 76ers star doesn't see a bright future for Jon Snow

Valanciunas played professionally in Lithuania before joining the Toronto Raptors