Report: Suns' standoff with Eric Bledsoe has an 'ominous development'
The Phoenix Suns and Eric Bledsoe aren't seeing eye-to-eye on his restricted free agency negotiations, which is reportedly ruining the relationship between both sides.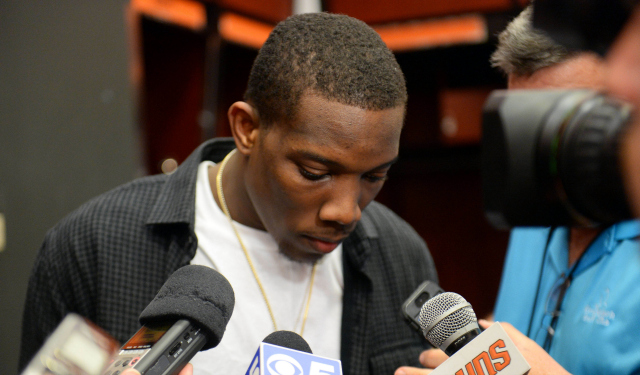 More Offseason Analysis: Coaching changes, news | Free Agency | Draft
Restricted free agency can be sort of broken in the NBA. While the goal of protecting teams from losing good, young players is mostly working, the stall in negotiations with many restricted free agents risks ruining relationships between the player and the organization. If you're a team with a restricted free agent, there is zero reason for you to get out in front of signing your own player, unless you're worried about the price getting out of control too quickly. Otherwise, you know most teams won't tie up days of negotiations followed by the three-day waiting period for the offer sheet to be matched or passed over.
A perfect case for the matter this summer is what's happening between Eric Bledsoe and the Phoenix Suns. Bledsoe and the Suns are far apart on negotiations, but without a team to drive up the price for the young guard, the stall in negotiations is making things awkward between the two sides. Chris Haynes of CSNNW.com is reporting an "ominous development" has come up between Bledsoe and the Suns and things aren't looking good for a long-term relationship between the two.
Things aren't looking good when it comes to negotiations between the Phoenix Suns and their restricted free agent star guard Eric Bledsoe.

According to league sources, an "ominous development" has arisen with sides still "very far apart" in contract negotiations. It has even escalated to the point where the "relationship is on the express lane to being ruined," a source with knowledge of the situation informed CSNNW.com.

The Suns offered Bledsoe a four-year, $48 million deal with declining salaries each year, two sources said. That proposal was quickly turned down. Bledsoe's camp is putting a max price tag on the player Suns Head Coach Jeff Hornacek called "a Top-10 player in the NBA in coming years", another source said.
This is part of the business of restricted free agency. If you're not worried about another team setting the market for your player then you just wait for them to come to you with an offer sheet. The only other course of action someone like Bledsoe has is accepting the one-year qualifying offer and then becoming an unrestricted free agent in 2015. That's how you'd really show the Suns they're screwing up a good thing. But that course of action just doesn't happen. It's too much of a risk for the player in terms of guaranteed money. Considering Bledsoe just had a tough knee injury during the season, he'd be crazy to take the qualifying offer.
We've had issues between restricted free agents and players before. Josh Smith wanted to leave the Atlanta Hawks for the Memphis Grizzlies. Eric Gordon asked the New Orleans Pelicans to not match the max offer sheet he signed with the Suns. In both cases, it seemed like the relationship wasn't going to be great moving forward, both offer sheets were matched, and we didn't hear a whole lot about it after. More than likely, the Suns and Bledsoe will agree to a contract that is unlikely to drive the price far above what the Suns are offering. Then both sides will get along again and Bledsoe can deal with it as an unrestricted free agent next time around.
Bledsoe's agent Rich Paul was a little busy with another client named LeBron James early in free agency, but it's unclear if that had anything to do with the stalling of progress in negotiations between the Suns and Bledsoe. 
At some point, a player is going to have to be confident and daring enough to sign the qualifying offer and show the team they made a mistake by not coming to terms in a timelier manner. Or they'll just have to wait until 2017 and find ways to speed up the process of restricted free agency so we don't approach August with a talented young player that would be heavily sought-after if he were an unrestricted free agent. Until then, players will have to do a better job of convincing other teams to set the market for their services because there's little incentive in many instances for the incumbent team to do it.
Ingram has become one of the team's go-to players with Lonzo Ball sidelined with an injury

Giannis skipped EuroBasket last summer, and has missed four games this season with knee so...

Some of the best and worst from the league as we head into the home stretch of the season
Cuban acknowledged that tanking is 'brutal' and that he will no longer do that after this...

Cho has been the GM in Charlotte since 2011

Fergie: 'I'm a risk taker artistically, but clearly this rendition didn't strike the intended...