Report: Suns want Kevin Love, could offer Goran Dragic or Eric Bledsoe
Phoenix has some solid assets to offer Minnesota.
• 1 min read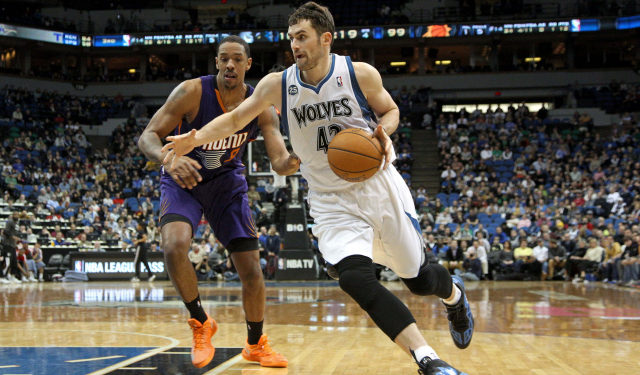 More Offseason Analysis: Coaching changes, news | Free Agency | Draft
The Phoenix Suns are in the Kevin Love sweepstakes, according to Yahoo Sports' Marc Spears, and they have the assets to make the Minnesota Timberwolves quite an intriguing offer.
Suns interested in Love deal w/best assets Dragic, Bledsoe & picks.NBA sources say it will take full max deal to control free agent Bledsoe.

— Marc J. Spears (@SpearsNBAYahoo) June 7, 2014
Goran Dragic made the All-NBA third team this season, and Eric Bledsoe is 24 years old with All-Star appearances in his future. They were a deadly backcourt for the Suns, and general manager Ryan McDonough told ESPN's Ramona Shelburne in December that they would do "whatever it takes" to keep Bledsoe and match "any reasonable offer." You'd think it would have to be a special situation to consider breaking up the duo, but Love being on the trade market should qualify as a special situation.
As great as Dragic and Bledsoe were together, moving one of them in a Love deal would make sense. Phoenix would still have one fantastic point guard, and it would gain a power forward who is as good as it gets. This year was a huge, surprising step in the right direction for the franchise, and to wind up with Love two years after a 25-57 season would be an incredible turnaround for McDonough. 
Phoenix owns the 14th, 18th, 27th and 50th picks in this year's draft, and it has future first-round picks on the way from the Los Angeles Lakers and the Wolves. The best-case scenario for Minnesota would be trading Love for a star and young players or picks -- there is no word yet on what the Suns intend to offer, but they are capable of making that happen. 
There are significant questions here -- what are other teams offering, what does Love think of Phoenix and have the Wolves given up on keeping him? All of this will become more clear in the coming weeks, but if the Suns are indeed interested, they should be taken seriously. 
The Warriors used a huge third quarter to come back from a 23-point deficit to get the win

Three takeaways from Golden State's 24-point rally past the Sixers

Okafor has played only 25 minutes this season
Capela's shoe slipped off, and was sitting near the free throw line

The Magic will instead play in the Las Vegas Summer League

Ball walked away from an altercation between the Lakers and Suns on Friday night