Report: Team USA cuts coming Thursday; Irving, Faried among 'core'
Kenneth Faried and Kyrie Irving join Derrick Rose, Stephen Curry, James Harden, and Anthony Davis as 'locks' for Team USA.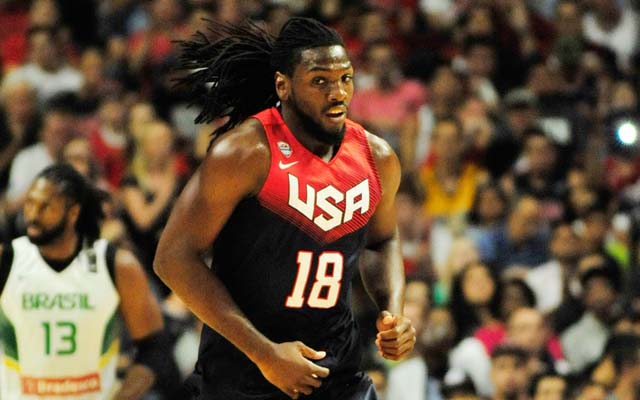 Offseason: Free Agency | Latest from Ken Berger | Rumors
ESPN reports that Thursday could be the day that they make the final cuts to get the roster down to 12. More interesting than that, however, are two names who ESPN reports are considered "core players" and who could wind up on the chopping block.
DeMarcus Cousins, Miles Plumlee and Andre Drummond are competing for only one guaranteed spot as backup center, though it's possible two of them could be on the plane to Spain.

Guards Damian Lillard and DeMar DeRozan are also at risk of being cut, but that likely depends on how many of the five versatile swingmen (Klay Thompson, Rudy Gay, Chandler Parsons, Gordon Hayward and Kyle Korver) survive.

Four of those 10 players will have to be let go Aug. 29, while the following six players appear to have secure spots as what Colangelo and Krzyzewski have consistently referred to as the "core players" of the squad: Anthony Davis, Derrick Rose, James Harden, Kenneth Faried, Steph Curry and Kyrie Irving.
via Final Team USA roster cut could come by Thursday - ESPN.
Irving is surprising... in a vacuum. If you take out Coach K's relationship with Irving as a former Blue Devil, and his relationship with LeBron James (who the coaches want to keep happy for a number of reasons), Irving is a worse three-point shooter than Lillard (though still a good one), a worse defender than Lillard (and don't even get me started on the gap between Irving and the already-cut John Wall on defense), and Lillard has had fewer reported attitude issues. Irving admitted earlier this week that he hasn't been a leader "at all" in Cleveland. 
But you have to factor his comfort in what Coach Krzyzewski wants to run, and his overall talent level. 
Faried, though, that's a bit jarring. Faried was a surprising add to the roster, and given that he lacks a post-game, a mid-range shot, and much of an offense, was considered to be a longshot. But he made significant strides in the last two months of the season in becoming a post-up threat, and you're simply not going to find a player who works harder when he gets on the court. Faried is wild with his decision-making, but his hustle and overwhelming physical presence just makes things happen. That could be of value for a team that wants to control the boards. 
Either way, if Faried is a lock, it makes it all the more unlikely that DeMarcus Cousins, already battling with Mason Plumlee (and where did Plumlee go to school, again?), will wnid up in his spot. 
We've got all the scores, highlights and news for Thursday night

The Sixers big man got his first All-Star selection -- and maybe some revenge -- on Thursd...

It appears some players are not entirely taking the All-Star voting process seriously
There were some weird discrepancies between the fan, media and player votes

LeBron and Steph will be the captains for the 2018 NBA All-Star Game

Arron Afflalo was involved in an altercation with Timberwolves big man Nemanja Bjelica on...