Report: The Magic are ready to trade Dwight Howard
According to a report, the Magic are ready to trade Dwight Howard and will entertain offers once next week's draft lottery results are in.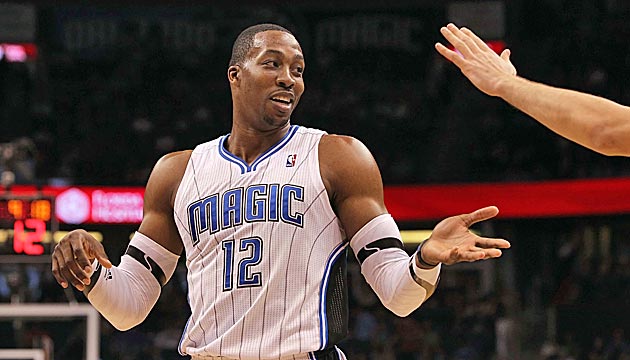 Even with Stan Van Gundy gone from Orlando, Dwight Howard doesn't want to stay. (US Presswire)
Fire up the Dwightmare engine, because it's time go 'round and 'round again.
According to Sheridan Hoops
, the
Magic
are ready to trade Dwight Howard and will entertain offers once next week's draft lottery results are in.
A plugged-in league source tells SheridanHoops.com that the feeling is mutual, and Orlando is prepared to trade him sooner rather than later.

The source said that when Magic team president traveled to Michigan last weekend to speak in person with owner Rich DeVos, the conclusion was reached that not only was it time for Stan Van Gundy and Otis Smith to go, but Howard, too.
There was some feeling that the firing of Stan Van Gundy and agreement to part ways with Otis Smith was in an effort to keep Howard, but that doesn't seem to be the case. The Magic might be clearing the slate.
CBSSports.com's Ken Berger wrote this
after Van Gundy and Smith were let go:
According to two people familiar with the Magic's strategy, the departure of Van Gundy and Smith does not necessarily mean Howard is staying in Orlando. Similarly, if the Magic had chosen to keep Van Gundy and/or Smith, it wouldn't necessarily have signaled that Howard was gone.
Nobody seems to have a clue what the Magic are doing, even the Magic themselves. The whole Dwight Howard trade deadline mess ended with Howard waiving his early termination option and agreeing to stay with the Magic (under contract at least) for the next year.
Here's the likely process that happened:
Howard really liked this Magic team and wanted to stay for the season and then take off in the summer. The Magic weren't having that, so they were going to trade Howard at the deadline. Howard waived the ETO so he could stay with the team. But he still wants out. And the Magic don't seem to have an upper hand to keep him.
A report in April
had Howard still likely to request a trade this summer, and that doesn't seem to have changed despite the front office decisions.
A report earlier in the week
said Howard still wanted to be traded.
That sound you hear? That's Nets GM Billy King calling the Magic right now.
T.J. Warren gets paid big money by the Suns in a four-year deal

Melo didn't hold back on his feelings about President Donald Trump and urges for help in Puerto...

The Wizards star says the NFL won't change until important players like Brady and Rodgers speak...
Popovich spoke at length about sports, race, culture, and politics during Spurs media day on...

Carmelo Anthony finds the idea of coming off the bench very funny

Several teams spoke about Trump's recent comments about protests and the Warriors' White House...