Report: The Nets lost $144 million in basketball activities last season
Brooklyn reportedly lost $131 million more than any other team. Not a typo.
• 1 min read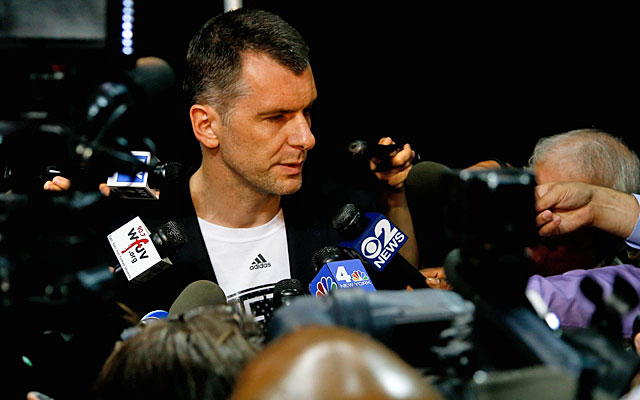 More Offseason Analysis: Coaching changes, news | Free Agency | Draft
The Brooklyn Nets are projected to have lost $144 million -- $144 million! -- in basketball activities last season, according to a league memo obtained by Grantland's Zach Lowe.
The NBA expects nine teams will end up having lost money once luxury-tax distribution and revenue-sharing payments are finalized. The Nets, with that monster $144 million figure, are the biggest losers. Next in line? The Wizards, with projected losses of about $13 million. That's right: The Nets lost $131 million more than any other NBA team last season. This is what happens when you pay $90 million in luxury tax for an aging roster and play in a market so large you are ineligible to receive any revenue-sharing help.

It's important to note the figures here stem from basketball activities only, and do not appear to include benefits the Nets and Prokhorov get from their ownership stake in the Barclays Center. And Prokhorov, of course, is heli-skiing levels of rich. But taking a $144 million bath when the rest of the league is swimming in profits does not sit well.
The Nets spent $190 million on their roster, including luxury-tax payments, and profit was obviously not the goal there. Winning was. Unfortunately for owner Mikhail Prokhorov, Brooklyn ran into the Miami Heat in the second round and was eliminated in five games. Was it really worth it?
The Nets made Lawrence Frank the highest-paid assistant in the NBA, then "re-assigned" him about a month into the season. Head coach Jason Kidd has now left for Milwaukee, Paul Pierce is a free agent and the team will still be giving draft picks away in four years' time. Prokhorov will surely still spend -- and lose -- money in order to compete for a championship, but that task is looking more and more challenging by the day.  
The investigation detailed a corrosive workplace environment

Also, when -- or rather, will -- the Warriors flip the switch?

The versatile forward has one glaring weakness, but Toronto can see it turning into a stre...
The investigation detailed a hostile workplace environment

Cousins suffered a torn Achilles tendon on Jan. 26, and will miss the rest of the season

Ingram has become one of the team's go-to players with Lonzo Ball sidelined with an injury