Report: Thunder coach Scott Brooks turned down 3-year contract extension offer
Oklahoma City Thunder coach Scott Brooks reportedly turned down a 3-year contract extension.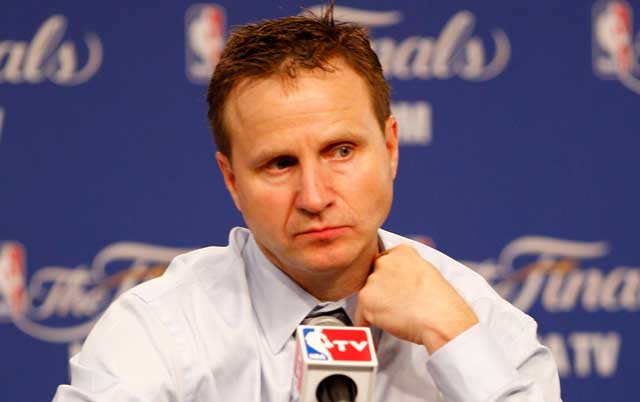 Scott Brooks' contract with the Thunder expires at the end of the Finals .
(Getty Images)
Oklahoma City Thunder coach Scott Brooks' stock is at an all-time high. He isn't rushing to cash in. 
Yahoo Sports reports that Brooks, who has guided Kevin Durant, Russell Westbrook and company to the 2012 NBA Finals, turned down a 3-year contract extension.
Brooks is still working to solidify his own future as Oklahoma City coach. GM Sam Presti wants him back when his contract expires at the end of the Finals, but league sources say Presti has offered a three-year deal worth just under $11 million that Brooks and his agent weren't willing to accept in the past. They've set aside talks for the playoffs, and compromise could come with a guaranteed fourth year. 
To this point, the Presti regime has taken care of its business without much incident or drama. It's incredibly difficult that retaining Brooks will wind up as anything more than a formality. The players, particularly the stars, seem to like his no-nonsense demeanor and the continual improvement in year-to-year results and the deep playoff runs with a very young core are exactly what any ownership group wants to see. What's more, the Thunder have dished out max extensions to Durant and Westbrook, so it's unlikely money alone will be an impediment.
The Thunder was Brooks' first head coaching job; he took over from fired coach P.J. Carlesimo in 2008. In four seasons, he's helped transform OKC from a 23-win team to a finalist in the NBA's championship series, amassing a record of 174-125 (.582). That includes taking the Thunder to the Western Conference finals in the last two seasons.
Brooks, 46, is one of the youngest coaches in the NBA. He played 10 years in the NBA -- with stops with the Philadelphia 76ers, Minnesota Timberwolves, Houston Rockets, Dallas Mavericks, New York Knicks and Cleveland Cavaliers -- and averaged 4.9 points and 2.4 assists per game.
The Miami Heat currently lead the Thunder 2-1 in the 2012 NBA Finals.
The Blazers guard was a guest on the Sirius XM radio show 'Sway in the Morning'

L.A. reached a three-year jersey ad patch deal with Wish, a San Francisco-based e-commerce...

John Paxson doesn't intend to buy Wade out without some sort of compromise from the 3-time...
Lonzo's signature shoes have a sleek, all-black design and will be available in November

Durant recently apologized for tweets criticizing the Thunder and Billy Donovan

Jackson says he has 'no respect' for Durant after KD created fake Twitter pages