Report: Timberwolves, Dave Joerger close to deal
Minnesota could reportedly finalize things with Dave Joerger early in the week.
• 1 min read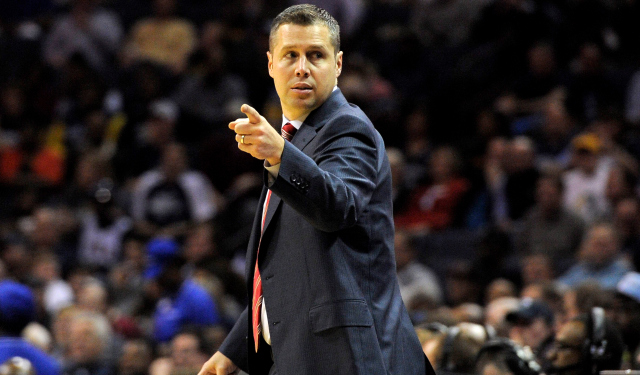 More Offseason Analysis: Coaching changes, news | Free Agency | Draft
Memphis Grizzlies head coach Dave Joerger met with Minnesota Timberwolves owner Glen Taylor on Saturday and the two sides are moving closer to a deal, according to Yahoo's Adrian Wojnarowski. 
Grizzlies and Timberwolves officials have begun discussions on possible compensation for letting Joerger out of his contract, sources said.

Discussions on a contract between Joerger and the Wolves are ongoing too, and a deal could be reached early in the week, sources said.
After the meeting, Minnesota was sold on Joerger:
AP Sources: #TWolves have decided Dave Joerger is their guy. Now turn attn to compensation and contract to make him their head coach.

— Jon Krawczynski (@APkrawczynski) May 25, 2014
Taylor seemed pleased with easy rapport he had with a fellow small-town Minnesotan, even if he & Joerger are from different generations

— Jerry Zgoda (@JerryZgoda) May 25, 2014
Memphis reportedly wants a second-round pick in exchange for letting Joerger walk. The Wolves have three such picks in this year's draft. It sure sounds like this transaction is on the verge of happening.
If Joerger does go to Minnesota, it might seem like it'd be a step down in terms of talent, especially if Kevin Love's days there are numbered. It's not hard to see why this would appeal, though. The Grizzlies are in organizational turmoil and Joerger has a long relationship with Wolves president Flip Saunders. There's no telling what direction Memphis is going, but for Joerger, this move would be a smart long-term play.
Thomas took to Twitter to let the Celtics know he doesn't want to ruin Pierce's night

The Hall of Famer was a seven-time All-Star with the Celtics, and was MVP of the 1976 NBA...

It's rare to see a legit punch in an NBA fight, but this was definitely one of them
We've got all the scores, highlights and news from an NBA Tuesday

The former Slam Dunk Contest champion will take his talents to Tri-State

Do NBA players have look-a-likes from famous paintings? We found out on the new Arts & Culture...