Report: Timberwolves have made a formal offer to Nikola Pekovic
The Minnesota Timberwolves have reportedly made a formal offer to restricted free agent Nikola Pekovic for at least four years, $48 million.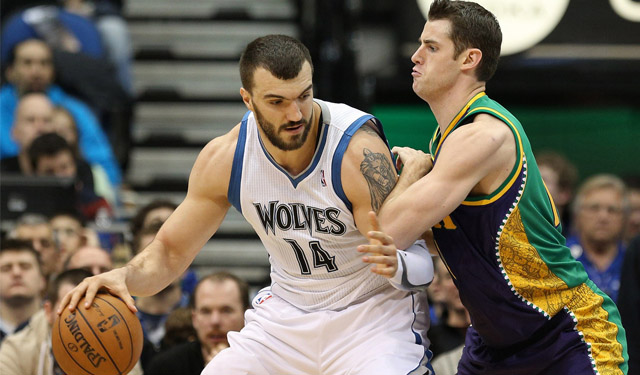 The restricted free agency game can be frustrating for the restricted free agents. Their incumbent teams rarely take the first step in offering a deal to bring them back because it sets the market on those negotiations. You can end up bidding against yourself for the player's services before the market has been set by other interested teams. In theory, that could lead to a much higher asking price for that player than you would have seen with a little patience to see where the market is headed.
After a week of moves by the Minnesota Timberwolves in which they re-signed wing Chase Budinger and signed Kevin Martin, they apparently aren't into waiting on the market to be set for restricted free agent center Nikola Pekovic. According to Jerry Zgoda of the Star Tribune, the Wolves submitted a formal offer of at least four years and $48 million to Pekovic through his agent.
The Timberwolves have made a formal contract offer to restricted free agent Nikola Pekovic and waived two players in preparation for Wednesday's end to the NBA moratorium period.

According to league sources, the Wolves made an offer to Pekovic on Friday and expect to receive a response early this week.

On Sunday, they waived center Greg Stiemsma and swingman Mickael Gelabale in two salary-cap moves designed to clear space to allow them to sign free agents Kevin Martin and Chase Budinger as well as bring back Pekovic on a four-year deal that likely will be worth $12 million a year or more.
This is a risky negotiating tactic by the Wolves and one that could come back to bite them in the salary cap. Dwight Howard and Al Jefferson have verbally agreed to sign with their respective new teams, the Houston Rockets and Charlotte Bobcats. That leaves free agents Andrew Bynum and Pekovic as the top big men available on the market. Bynum is an unrestricted free agent, while Pekovic is restricted.
If the Wolves believe the offers for Pekovic will start flowing and get out of control as teams try to make sure they walk away from free agency with something, then it's smart to try to get this worked out right now. But if teams end up putting off offers to Pekovic because they believe the Wolves will just match it anyway (which they probably will) and the cap room dries up around the league, then the Wolves could have added to an asking price Pekovic wasn't going to get to.
It's a sign of respect from the Wolves to Pekovic by saying they aren't going to wait for the typical process of getting an offer sheet for the Wolves to review and match. However, we don't quite know if they've increased the price tag on their center and set a market floor that could have ended up being the market ceiling with a little more patience. 
Thomas has a target date for his return, and with the Cavaliers scorching, this could be h...

LeBron James once again is using his platform to be socially active

Not many games, but still plenty of action and intrigue Sunday in the Association
Kobe Bryant had a solid piece of advice for back in 2016 when he left OKC for Golden State

An old rivalry is reignited between LeBron James and the Cavaliers and John Wall and the W...

SportsLine's Mike McClure, a DFS pro with more than $1M in winnings, gives optimal lineup...