Report: Tracy McGrady signs one-year contract with Qingdao in China
Free-agent forward Tracy McGrady has reportedly signed a one-year contract to play for Qingdao of the Chinese Basketball Association.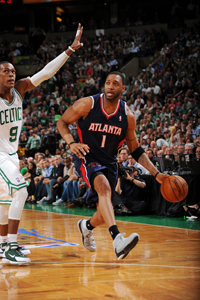 Tracy McGrady has reportedly signed in China.
(Getty Images)
Veteran forward Tracy McGrady has signed a one-year contract with Chinese club Qingdao, according to a Yahoo Sports report on Tuesday
The deal was reportedly being finalized on Monday.
McGrady, 33, will likely complete the deal within the next couple of days and leave for China within the next one to two weeks, sources said.

McGrady worked out for the San Antonio Spurs and New York Knicks in the past month, but neither franchise had a roster spot to commit to him.
A report linking McGrady to China surfaced last week.
Qingdao marks McGrady's fifth club in four seasons, as he's bounced around from the Houston Rockets, to the New York Knicks, to the Detroit Pistons, to the Atlanta Hawks, where he averaged 5.3 points, 3.0 rebounds and 2.1 assists in 16.1 minutes per game off the bench last season. McGrady's career has been in a harsh downward slide after knee surgery robbed him of the elite athleticism that made him an All-Star in seven consecutive seasons from 2001 to 2007. 
As we were reminded last season, signing in China for the season and catching on with a playoff team are not necessarily mutually exclusive. A la Kenyon Martin and J.R. Smith, McGrady could conceivably return to the NBA following the CBA's season in time to provide depth for a contender, assuming there's still interest.
Markieff Morris was already in line to miss the start of camp due to a pending assault cas...

The 76ers should hopefully get a lot of play out of their young guys this season

Okafor's been on and off the trade block for over a year and doesn't seem to be in Philly's...
Fisher is the fourth NBA player to compete for the Mirror Ball trophy on the show

Barkley commends the NBA, sarcastically, for extending the season and reducing back-to-back...

Enes Kanter isn't seeing much comedy in the Kevin Durant social media situation