Report: Two teams have contacted Nate McMillan about coaching
Former Portland Trail Blazers coach Nate McMillan has reportedly been contacted by two teams about an open coaching position.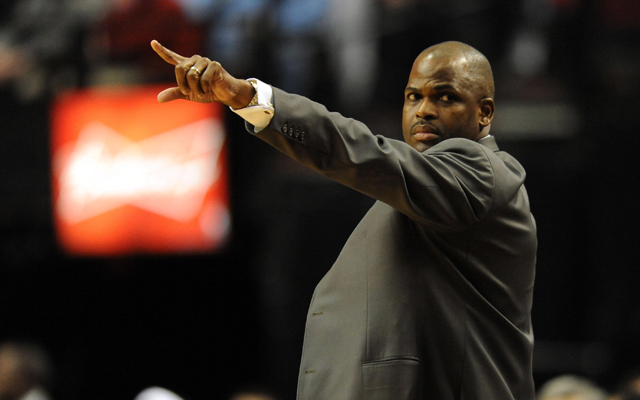 More postseason coverage: Playoff schedule, results | Latest news, notes
The Los Angeles Lakers and the Cleveland Cavaliers have yet to fill their vacant head coach position but they've been interviewing candidates left and right. One person who might be a late addition to the interview process for either team is former Portland Trail Blazers' coach and current Indiana Pacers' assistant coach Nate McMillan.
With just the two job openings left, Chris Haynes of CSNNW.com is reporting that McMillan's representatives have been contacted by two teams with head coach openings (i.e. - Lakers and Cavs) on an exploratory basis to see how interested he might be in the job.
Two NBA teams with head coach openings have reached out to the representatives of Indiana Pacers assistant coach Nate McMillan, league sources informed CSNNW.com at AmericanAirlines Arena on Tuesday night.

Contact was made merely on an exploratory basis to gauge his level of interest, said a source who requested anonymity. Being that the Los Angeles Lakers and Cleveland Cavaliers are the only two teams currently without a head coach, I think it's safe to speculate that they inquired about McMillan.
McMillan coached the Seattle SuperSonics from 2000 to 2005 before coaching the Blazers from 2005 to 2012. He was fired midseason during the 2011-12 season when the Blazers were 20-23 in the lockout-shortened season. His overall coaching record is 478-452. In 12 seasons as a coach in the NBA, his teams have made the playoffs five times.
Kevin Durant says he doesn't agree with what President Donald Trump agrees with

Evaluating where the future Hall of Famer might land up if he is freed from Chicago's rebuilding...

Adam Silver said his piece with the schedule out; we address that and what the slate looks...
The Hawks and Sharecare reportedly agreed to terms on a five-year deal

A look at the context of the schedule and who plays who when, and how far they travel during...

Durant took on rapper Lil Dicky and actually might have lost