Report: U.S. Bank sues Stephon Marbury for $3 million
U.S. Bank is reportedly suing Stephon Marbury for $3 million in an investment gone wrong.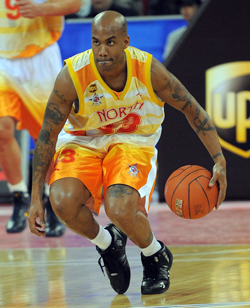 Stephon Marbury is reportedly in legal hot water again.
(Getty Images)
A hero abroad; an alleged delinquent at home.
U.S. Bank has headed to court to collect millons of dollars from the reigning king of Chinese Basketball, Stephon Marbury, according to RichmondBizSense.com. Marbury allegedly personally guaranteed seven figures worth of loans in deals involving the purchase and leasing of industrial properties.
U.S. Bank, which is servicing a bundle of loans originally owned by Wachovia, sued Stephon Marbury and several of his investment entities — one of which is called Starbury GSA — for $3 million.

The suit contends that, through the entities, Marbury bought industrial and office properties across the county, including one on Poplar Drive in Petersburg that was leased to the US. General Services Administration for use by the Social Security Administration. Marbury also had investment property in Ohio and Colorado, the suit claims.

Wachovia lent $1.4 million to Marbury in 2007. In August 2011, U.S. Bank foreclosed on the Petersburg property and sold it for $1.31 million, according to the suit. The bank alleges that it is still owed $1 million by Marbury, which includes unpaid interest and legal fees.
Marbury was also reportedly sued for $16 million by Wachovia/Wells Fargo back in July 2011.
Meanwhile, Marbury is half a world away, serving as the face of the Chinese Basketballl Association. Back in March, Marbury led the Beijing Ducks to the 2012 CBA title, scoring 41 points and adding seven assists and three rebounds in the title-clinching game.
Earlier this week, Marbury emailed GQ.com to provide the latest on his time overseas, including a picture of a statue that was commissioned to celebrate his championship.
What's up! How are you? This is Stephon Marbury. I wanted to send you some pictures from China. After winning the championship in China they had a million people vote in a week to build a statue because I couldn't win MVP by the CBA rules. They placed the statue on the lawn of the 2008 olympic basketball arena. I also did a book deal with the Beijing publishing group. I just wanted to share this with you because you saw the turn around from one point to another. Be well and take care. Love is Love!
CBA rules stipulate that Finals MVPs must be Chinese-born.
Basketball-Reference.com reports that Marbury's career NBA earnings topped $151 million. Marbury, 35, last played in the NBA during the 2008-2009 season. A 2-time All-Star, Marbury posted career averages of 19.3 points, 7.6 assists and 3.0 rebounds per game during a 13-year career that included stops with the Minnesota Timberwolves, New Jersey Nets, Phoenix Suns, New York Knicks and Boston Celtics. 
On one side of the globe: championship rings, a statue, a book deal and mass apeal. On the other side: a one-promising basketball career in tatters and a court room with lawyers coming after his money over a convoluted investment gone wrong. And everyone thought Marbury was crazy when he signed to play in China in 2010. Good luck, U.S. Bank.
Thomas took to Twitter to let the Celtics know he doesn't want to ruin Pierce's night

The Hall of Famer was a seven-time All-Star with the Celtics, and was MVP of the 1976 Fina...

It's rare to see a legit punch in an NBA fight, but this was definitely one of them
We've got all the scores, highlights and news from an NBA Tuesday

The former Slam Dunk Contest champion will take his talents to Tri-State

Do NBA players have look-a-likes from famous paintings? We found out on the new Arts & Culture...