Report: Wade, Bosh expected to take big pay cuts, have $12M in space
The Miami Heat are reportedly telling free agents they'll have $12 million in cap space, indicating Chris Bosh and Dwyane Wade have taken big pay cuts.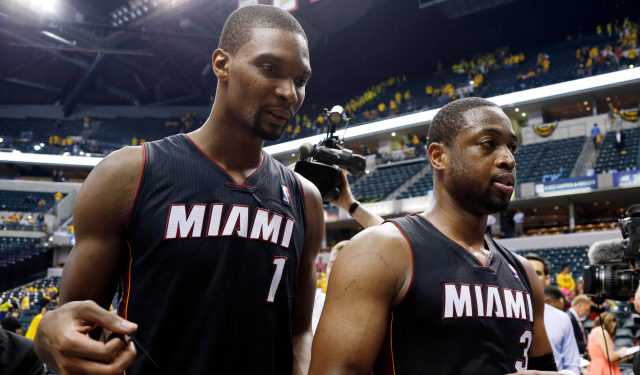 More Offseason Analysis: Coaching changes, news | Free Agency | Draft
The Miami Heat are going to be aggressive in trying to bolster the roster around the Big Three this summer. How aggressive? According to Brian Windhorst of ESPN.com, they're telling free agents they'll have $12 million or more of cap space to use this summer. With LeBron James, Dwyane Wade, and Chris Bosh giving Pat Riley a window to enact his offseason plan, this information would mean they can be highly competitive in the market for either center Marcin Gortat or point guard Kyle Lowry.
Heat telling free agents they will have $12+ million to spend, indicating Wade & Bosh ready to take huge pay cuts, sources told ESPN

— Brian Windhorst (@WindhorstESPN) July 1, 2014
Windhorst's report backs up the earlier tweet from John Canzano of The Oregonian, who said Bosh is expected to sign a five-year deal beginning at $11 million in year one of the deal and Wade will sign a four-year deal that starts at $12 million in the first season. 
Chris Bosh's 5-year deal with Miami expected to start at $11 million in year 1. Dwyane Wade will sign four years, $12 million in year 1

— John Canzano (@johncanzanobft) July 1, 2014
With LeBron expected to sign a contract for the maximum ($22 million), that puts the Big Three of Miami $45 million. Add $2 million for Norris Cole's contract and about $1 million for Shabazz Napier's rookie deal, and you have $48 million right there. They still have Ray Allen's deal to work out, assuming he re-signs but he has a cap hold of $4.1 million, and they have to re-sign Udonis Haslem, who is expected to take a pay cut after making $4.3 million last season.
It sounds like they have a rough framework for making this happen, and Riley should have the wiggle room with the cap to be aggressive in adding help to prevent losing the trio of James, Bosh and Wade.
If there's any justice, the basketball gods will give us the Golden State-OKC playoff series...

Pachulia fell onto Westbrook in a questionable manner during Saturday night's game

Butler suffered the injury on Friday night against the Rockets
Pachulia fell onto Westbrook after they both got tangled up with Nick Young

The extent of Butler's meniscal injury isn't yet known, but there's reason for Wolves fans...

No timetable was provided for Butler's recovery