Report: Wall added to Team USA roster
After being excluded initially, Wizards guard added to Team USA roster of 19.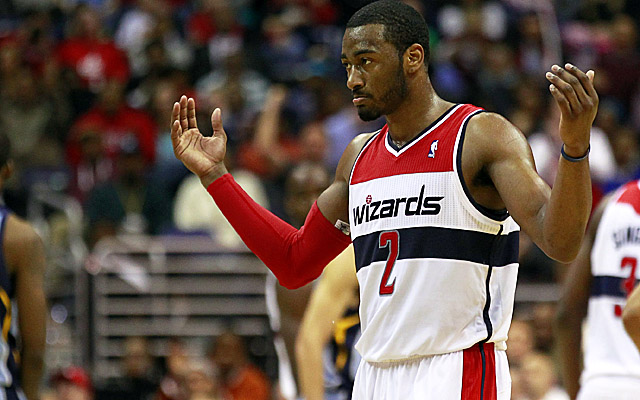 Offseason: Free Agency | Latest from Ken Berger | Rumors
ESPN reports that John Wall is headed to Las Vegas next week as part of Team USA's training camp roster, after initially being excluded from the roster for what is reportedly a concern for Wall's endurance after a long season.
Washington Wizards guard John Wall has accepted USA Basketball's invitation to attend its training camp next week in Las Vegas, according to sources close to the situation.

Sources told ESPN.com that USAB has wanted Wall in camp for weeks and merely wanted to make sure that the Wizards' All-Star was able to play at full capacity after a longer-than-expected season before making it official.
via John Wall of Washington Wizards to attend - ESPN.
Wall joins the team as Blake Griffin steps down. The team is set to be guard heavy with Stephen Curry, Damian Lillard, Kyrie Irving, Wall, and Derrick Rose on roster at point guard, and Bradley Beal, DeMar DeRozan, James Harden, Kyle Korver, and Klay Thompson at off guard. But Wall brings athleticism and floor management, something the team needs with several primarily scoring points on the team. 
It's another sign of Wall's evolution into a premier point guard, and his inclusion is a wise one by Team USA. What this means for some of the other point guards, most notably Kyrie Irving who Wall is often compared to, remains to be seen. 
The former Slam Dunk Contest champion will take his talents to Tri-State

Do NBA players have look-a-likes from famous paintings? We found out on the new Arts & Culture...

Larry Hartstein is on quite a run in picks involving the Suns and the Trail Blazers
Rodman's agent says he is urging the ex-NBA star to check into rehab

The players and referees are working to fix a relationship that has recently been deterior...

The locker room heist is going to lead to plenty of fines and maybe some suspensions from the...