Report: Wall added to Team USA roster
After being excluded initially, Wizards guard added to Team USA roster of 19.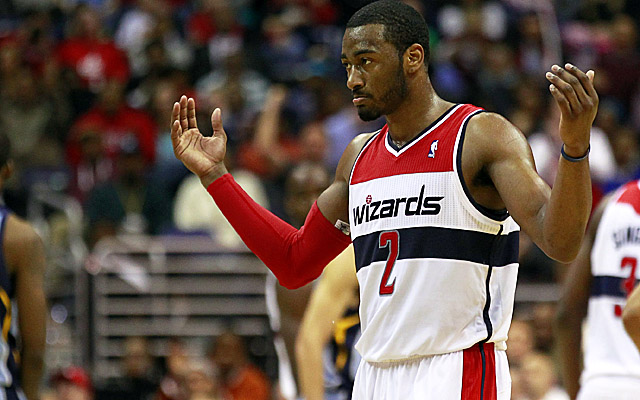 Offseason: Free Agency | Latest from Ken Berger | Rumors
ESPN reports that John Wall is headed to Las Vegas next week as part of Team USA's training camp roster, after initially being excluded from the roster for what is reportedly a concern for Wall's endurance after a long season.
Washington Wizards guard John Wall has accepted USA Basketball's invitation to attend its training camp next week in Las Vegas, according to sources close to the situation.

Sources told ESPN.com that USAB has wanted Wall in camp for weeks and merely wanted to make sure that the Wizards' All-Star was able to play at full capacity after a longer-than-expected season before making it official.
via John Wall of Washington Wizards to attend - ESPN.
Wall joins the team as Blake Griffin steps down. The team is set to be guard heavy with Stephen Curry, Damian Lillard, Kyrie Irving, Wall, and Derrick Rose on roster at point guard, and Bradley Beal, DeMar DeRozan, James Harden, Kyle Korver, and Klay Thompson at off guard. But Wall brings athleticism and floor management, something the team needs with several primarily scoring points on the team. 
It's another sign of Wall's evolution into a premier point guard, and his inclusion is a wise one by Team USA. What this means for some of the other point guards, most notably Kyrie Irving who Wall is often compared to, remains to be seen. 
The investigation detailed a corrosive workplace environment

Also, when -- or rather, will -- the Warriors flip the switch?

The versatile forward has one glaring weakness, but Toronto can see it turning into a stre...
The investigation detailed a hostile workplace environment

Cousins suffered a torn Achilles tendon on Jan. 26, and will miss the rest of the season

Ingram has become one of the team's go-to players with Lonzo Ball sidelined with an injury