Report: Wall, Beal, Millsap cut from Team USA
John Wall, Bradley Beal, and Paul Millsap head home from Team USA in first round of cuts, which is ... kind of odd.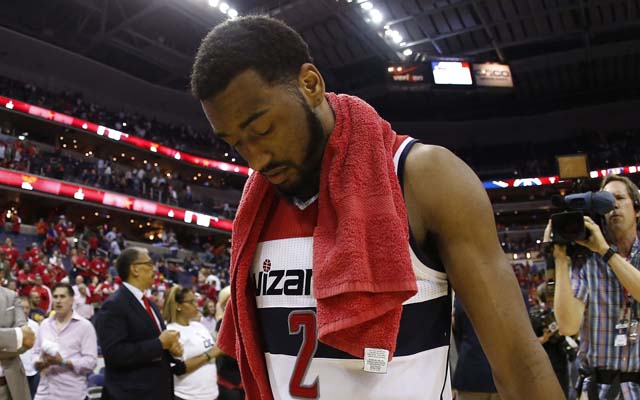 Offseason: Free Agency | Latest from Ken Berger | Rumors
Yahoo Sports reports that Team USA cut Washington Wizards point guard John Wall, shooting guard Bradley Beal, and Atlanta Hawks forward Paul Millsap Monday. 
USA Basketball cut Washington's John Wall, Bradley Beal and Atlanta's Paul Millsap today, sources told Yahoo Sports.

— Adrian Wojnarowski (@WojYahooNBA) August 4, 2014
It's a curious set of decisions. Beal makes sense, the team has shooters out the wazoo and Beal is the most inexperienced of them all. The other two ...
Team USA is point-guard-heavy with Steph Curry, Kyrie Irving, Damian Lillard, and Derrick Rose, but Wall is something none of those players are: a top-notch defender. He's also a distributor, which isn't the strength of Irving, Lillard, or Rose. After losing Paul George to injury, they could have used another perimeter defender and someone to actually run an offense. But Coach Mike Krzyzewski has always preferred shooting, shooting, shooting all the time. Perhaps Wall, who Team USA said was initially left off the invite-list due to how long his season was, simply got tired and wanted to go home.
But it's a curious situation when Wall is sent home and fellow Wildcat DeMarcus Cousins is rumored to be on the edge. 
And then there's Millsap. That, again, might be more about the veteran being worn out and not feeling the competition. But if Millsap wanted to stay, he just got cut while Mason Plumlee is still there. 
Let me run that back. 
All-Star Paul Millsap is gone, while former Duke Blue Devil Mason Plumlee is still there. 
Okay? 
But, at the end of it, Coach K has gold medals and despite a lot of concern that Team USA could be vunerable, the other teams can have an army and it may not matter. Team USA has a Durant. 
Is this rock bottom for the Cavaliers because it sure feels like it is

Wade, as he's done so many times in his career, threw it up to LeBron for the thunderous f...

The Warriors coach added there should be no shame in being picked last since everyone's an...
We've got all the scores, highlights and news from all of Saturday's games

The two teams have reportedly not had any substantial discussions to this point

Oladipo may be getting most of the shine, but this second-year big man has been phenomenal...