Report: Warriors and Cavaliers join Suns as suitors for Channing Frye
Veteran stretch four receiving interest from teams with wide-open, shooter-centric teams.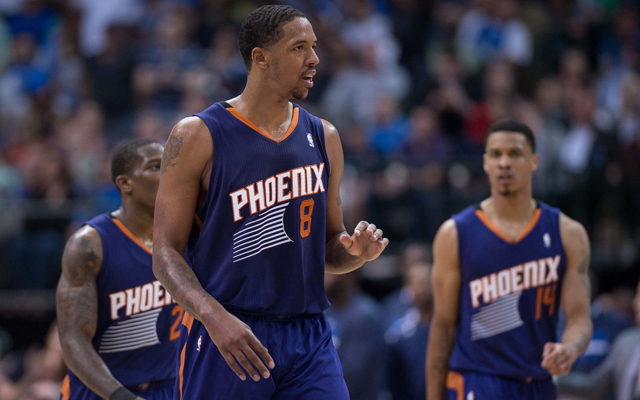 More Offseason Analysis: Updating Free Agency news | Top 40 free agents
Yahoo Sports reports that while the Phoenix Suns are pushing to re-sign long-time stretch four Channing Frye, there is also interest from the Golden State Warriors and Cleveland Cavaliers.
Suns pushing to re-sign Channing Frye, sources tell Yahoo. After opting-out of deal, Frye's surveying market, including Cavs, Warriors.

— Adrian Wojnarowski (@WojYahooNBA) July 1, 2014
A look at the options:
Suns: He has been there forever, through good times and bad, and is a natural fit with the roster. He was tremendous last season stretching the floor, something they need with the kind of centers they have and their need for spacing. Phoenix needs a few veterans to keep the locker room from getting too young, and Frye provides that. Not his best chance to win title, though. 
Warriors: A really interesting fit. Behind David Lee, could do real damage as a stretch four. But with Draymond Green effectively playing combo-forward for long stretches, would that impact Frye's minutes? Steve Kerr knows Frye an has a good relationship with him. That could help smooth things over. His best chance to contend. 
Cavaliers: A similar situation to what he's got in Phoenix, but with more questions. David Blatt's planned wide-open offense could be a lure, but will it be better than Phoenix's? And the Cavaliers have Tristan Thompson and Anthony Bennett. Could there be a positonal crunch there? If the money's the same, Phoenix is a better bet. 
Don't be surprised if a few contenders worm their way into the conversation. 
Kris Dunn somehow took a chunk of the Bulls court out with his teeth, but didn't lose any in...

The fallout from the Rockets-Clippers tussle continues; no Clippers were disciplined

DH12 is picked for free throws after a teammate gets ejected. He makes both, and lets Scott...
Bell was injured defending a Robin Lopez dunk and had to be taken off the floor in a wheel...

Trevor Ariza and Gerald Green are reportedly both suspended two games

We've got all the scores, highlights and news from Wednesday night