Report: Warriors are shopping David Lee and the $44M he's owed
The Golden State Warriors are reportedly shopping David Lee around the NBA right now. Unfortunately, he has three years and $44 million left on his contract.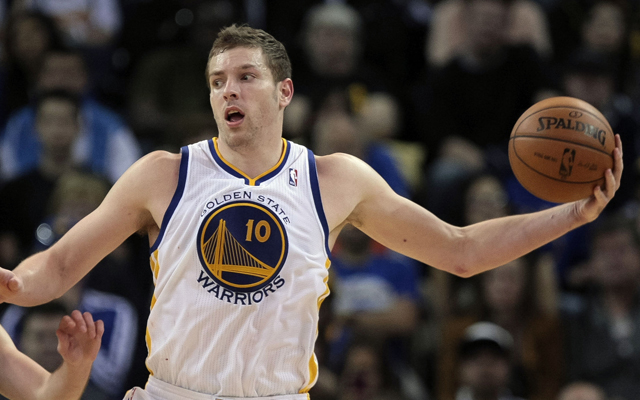 The Golden State Warriors just had their most successful season since the 2007 Warriors made the second round of the playoffs. David Lee made the All-Star Game and All-NBA third team, Stephen Curry shot the lights out in historical fashion, and this team found themselves putting up a great fight in the second round against the San Antonio Spurs. But during the playoffs the Warriors saw they could survive without Lee's double-doubles when he went down with a hip injury. 
Lee still has three years and roughly $44 million left on his current contract. If the Warriors can survive without Lee in the lineup and clear some cap/roster flexibility in the process, it would be a huge step toward preserving the momentum they built the past year as an organization and allow them to build on the recent success. Adrian Wojnarowski of Yahoo Sports is reporting the Warriors have explored options for trading Lee.
The Golden State Warriors  are exploring trade opportunities for All-Star forward David Lee and the three years, $44 million left on his contract, league sources told Yahoo! Sports.
Wojnarowski reported that the Warriors looked into dealing David Lee for big man Andrea Bargnani before the New York Knicks and Toronto Raptors worked on a deal that would send Bargnani to New York. The Warriors also reportedly tried a package of David Lee and Brandon Rush to pry LaMarcus Aldridge away from the Portland Trail Blazers but were rejected. GM Bob Meyers seems intent on moving Lee and giving his team the ultimate roster flexibility he can.
It doesn't mean the hip injury is something to worry about or that the Warriors don't value Lee. They just have to look out for their best interests. If you can move Lee and set yourself up next offseason to attract a major free agent (LeBron James?), you have to do that if you're Golden State.
Two of the league's young, up-and-coming squads will square off on Tuesday in Minneapolis

Kawhi Leonard is set to make his season debut for the Spurs

Lonzo Ball will make his Madison Square Garden debut
Leonard, who hasn't played this season due to a quad injury, may return with more skills than...

James, who adjusted his shooting mechanics, is on par with Steph Curry's all-time great 2015-16...

Jordan Bell had himself a night against Portland