Report: Warriors convinced Van Gundy 'leaning towards' Pistons
Former Magic coach said to be 'nearing' deal to take over Pistons.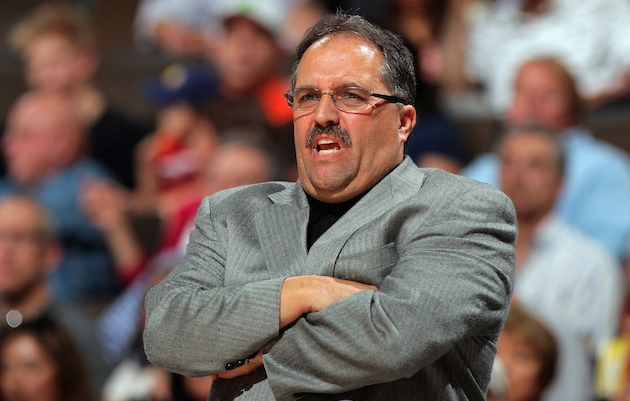 More NBA: Season Awards | Grades: East | Grades: West | Seasons in Review
Yahoo Sports reports that the Pistons are 'nearing' (whatever that means) a deal with Stan Van Gundy to become coach and head of their basketball operations, and that the Warriors (the other major suitor for SVG) believe he's "leaning" towards taking that offer: 
Golden State officials met with Van Gundy on Monday in Florida and left convinced he was leaning strongly toward the offer of total control in Detroit. Golden State isn't willing to make an allowance for Van Gundy to have final say on player personnel. The Warriors would make him one of the higher paid coaches in the NBA, but Detroit owner Tom Gores is willing to do "whatever it takes," one source said, to recruit Van Gundy.

Golden State had been willing to pay Van Gundy in the five-year, $25 million to $30 million range to coach, but officials ultimately don't believe money is the motivating factor for Van Gundy in his decision. The allure of personnel control and an ability to build his own organizational culture and roster has pulled him toward Detroit.

Nevertheless, Van Gundy hasn't fully ruled out coaching the Warriors, sources told Yahoo Sports.
via Sources: Pistons in serious talks to have Stan Van Gundy coach, run basketball operations - Yahoo Sports.
It's an interesting debate. Same money, but control is different in each situation. The Warriors present a better team to start with, with young talent, veterans, and a team more primed for a title. But SVG would have to tailor his approach to those players, and there's a good chance they're going to resist after having had so much success and a personal relationship with Mark Jackson. 
The Pistons let him essentially build from the ground up. Owner Tom Gores is likely going to have demands (he's rumored to be high on Josh Smith), but the rest is for SVG to guide. And he gets a young super-stud in Andre Drummond down low... and he's had success with those situations before. 
This has developed all in the past 24 hours, but that only shows you how serious the Pistons are. 
We've got all the scores, highlights and news for Thursday night

The Sixers big man got his first All-Star selection -- and maybe some revenge -- on Thursd...

It appears some players are not entirely taking the All-Star voting process seriously
There were some weird discrepancies between the fan, media and player votes

LeBron and Steph will be the captains for the 2018 NBA All-Star Game

Arron Afflalo was involved in an altercation with Timberwolves big man Nemanja Bjelica on...