Report: Warriors could make play for Melo if they miss on Love
The Warriors would reportedly like to bring Kevin Love or Carmelo Anthony to the Bay Area. Well, yeah, of course they would like that.
• 1 min read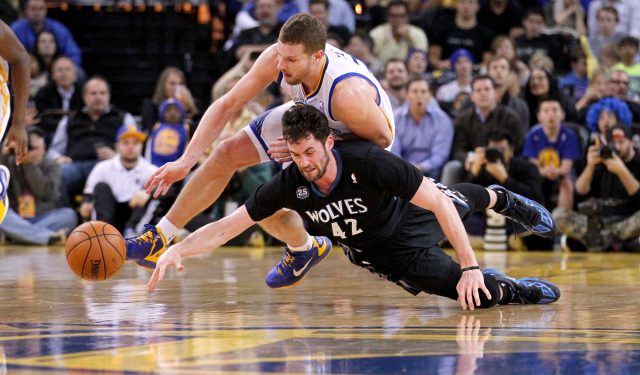 More Offseason Analysis: Coaching changes, news | Free Agency | Draft
The Golden State Warriors will dangle forward David Lee in trades -- perhaps to the Orlando Magic in a deal involving guard Arron Afflalo -- in order to facilitate a Kevin Love deal, according to Marcus Thompson of the Bay Area News Group. If Love can't be had, they'd reportedly be interested in Carmelo Anthony.
Lee could in essence be a one-year rental for the Magic. After next season, he becomes a chunky expiring contract Orlando could use. At most, two years of that $15M+ salary is probably something Orlando would swallow if it means it can book 18 and 10 every night.

Afflalo factors in if the Warriors have to move Klay Thompson. If Minnesota doesn't want Lee and the Warriors have to put together a package centered on Thompson (say Thompson, Barnes and Speights), the Warriors could be fine with that if they can send Lee to Orlando and come away with Afflalo to replace Thompson. If Love goes elsewhere, which is likely, the Warriors could package Lee and Thompson to get someone like Carmelo Anthony, then try to pull off a separate deal to get Afflalo. He plays both ends and he can shoot the 3.  Plus, Love and GM Bob Myers would welcome another Bruin to the mix.
It was earlier reported that Golden State didn't even want to include Klay Thompson in a Love deal. Now the Warriors will do so, but only if the have Afflalo as a replacement? Now they think they can get Anthony? This is developing rather quickly.
Reality check: It's going to be difficult for Golden State to acquire a second superstar to pair with Stephen Curry, whether it's Love or Anthony or anyone else. The front office likely wants Warriors fans to know that the team is trying to take another step, and it's only logical to look into Love. It also makes sense to see if Anthony is a possibility, but that doesn't mean that anyone should anticipate a big move in the Bay Area. These are lofty goals, and it's unclear at best how potential trading partners view Lee, Thompson and the rest of the roster. 
Warriors' forward doesn't understand the reasoning behind the all-too-common double technical...

Hardaway Jr. gave a 'safe' call like he was an umpire in baseball

Barnes hits the trey with less than a second left to lift Mavericks to dramatic 95-94 vict...
Kevin Durant was once again back in Oklahoma City

Gregg Popovich has never seen an injury lead to the issues that Kawhi Leonard has been fac...

Kobe Bryant, of course, had his 81-point game against Rose and the Raptors back in 2006