Report: Warriors could try to acquire both Kevin Love and LeBron James
Golden State might try to create a new super-team.
• 2 min read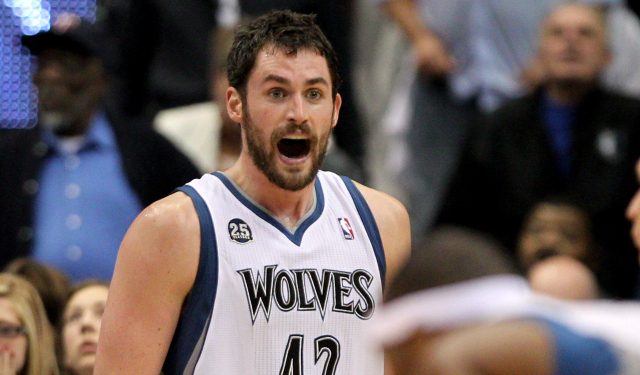 More Offseason Analysis: Coaching changes, news | Free Agency | Draft
The Golden State Warriors could be trying to assemble a super-team, according to ESPN's Chad Ford, who said in a radio interview that they would be in a good position to pursue LeBron James if they were able to acquire Kevin Love, via Diamong Leung of the Bay Area News Group:
The Warriors are still looking to trade for Kevin Love in order to set themselves up to make a run for free agent-to-be LeBron James, ESPN's Chad Ford told ESPN LA 710 AM on Wednesday.

"At the end of the day, I don't think there's a better Kevin Love deal for the Wolves than what the Warriors can offer, and I think the Warriors are very motivated to get Kevin Love in part I think not just because he's an upgrade over David Lee, but in part because I think that now that you can have a Steph Curry and you have a Kevin Love, I think they feel at that point that they could be credible suitors for LeBron James," Ford said.

"There are many suitors that are hoping to be credible suitors for LeBron James, but I think the Warriors can make a compelling case for him if they had Curry and Love. They're perfect complements to LeBron James."
As the Bay Area News Group's Marcus Thompson wrote in a column, a hypothetical lineup with Love, Stephen Curry and Andrew Bogut is more dangerous than what the Miami Heat can offer James, and Golden State wouldn't have a problem adding role players. 
If the Warriors get word from LeBron that he's interested, they can quickly pull the trigger on David Lee and Klay Thompson for Kevin Love (and the 2015 first rounder, if required). That would make the Warriors an even more attractive option. They could probably pull the trigger anyway — as a way of making LeBron interested.

…

James averaging $24M, plus Love averaging $18M, and Curry averaging $11 million — that's only $53 million of the cap. By comparison, James/Wade/Bosh trio made $57 combined last year.

Throw in Andrew Bogut's average of $12M, and the Warriors' four-man core (James/Curry/Love/Bogut) would cost $65 million over the next three years. (And that's a high estimate because Love would actually make two million less than $18 in his first year with Warriors).

With the increased salary cap, that leaves the Warriors with $12 million before the luxury tax to fill out the roster. So there'd be plenty room to lock up Draymond Green, get a back-up point guard, keep Festus Ezeli, etc.
Before Warriors fans get carried away, it should be noted that this is a longshot and there have been no definitive reports of Golden State discussing this plan or James being interested in it. He reportedly opted out in order to put pressure on Miami, not because he wanted to leave. Still, the thought of it is intriguing. Who wouldn't want to watch that team play? Who could stop them from scoring? This is the sort of thing we get to ponder because of James' free agency.
If there's any justice, the basketball gods will give us the Golden State-OKC playoff series...

Pachulia fell onto Westbrook in a questionable manner during Saturday night's game

Pachulia fell onto Westbrook after they both got tangled up with Nick Young
Butler suffered the injury on Friday night against the Rockets

The extent of Butler's meniscal injury isn't yet known, but there's reason for Wolves fans...

No timetable was provided for Butler's recovery