Report: Warriors had elaborate walk-off plan for Game 5
Had Adam Silver not decided to go through the necessary steps to force the sale of the Los Angeles Clippers, Golden State Warriors would've walked in Game 5.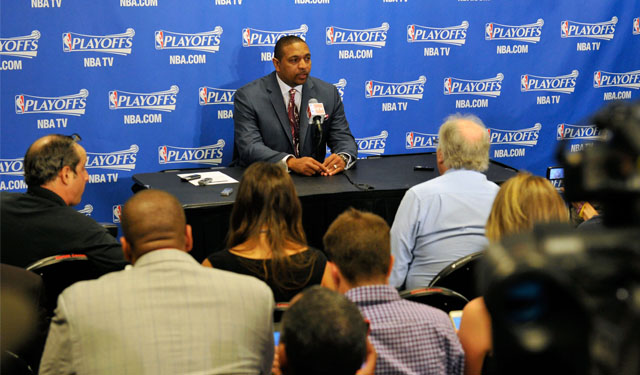 More: Sterling banned for life | Latest updates | NBA news
We've seen teams walk off the court early as a game is over, either in frustration with themselves or as a sign of disrespect to the team that just beat them. But we've never seen a team walk off the floor with 47:59 left in the game, let alone a playoff game. There was a chance we would have seen that in Game 5 between the Los Angeles Clippers and the Golden State Warriors. 
And it would have come from the Warriors. Had commissioner Adam Silver not announced he was looking to enact the necessary measures to force a sale of the Clippers from Donald Sterling, the Warriors informed the media pregame they were planning on making a stand by walking off the floor after the opening tip. From the Mercury News: 
The plan was set, the product of a 30-minute players meeting.

The Warriors were going to go through pre-game warm-ups and take part in the national anthem and starting line-up introductions. They were going to take the floor for the jump ball, dapping up the Clippers players as is customary before games.

Then once the ball was in the air, they were just going to walk off. All 15 of them.

"It would have been our only chance to make a statement in front of the biggest audience that we weren't going to accept anything but the maximum punishment," Curry said. "We would deal with the consequences later but we were not going to play."
That would have been an incredibly dramatic scene that would have melted the internet and possibly television. The plan to go about their usual business and then leave the game right after it began would have left everybody confused, dumbfounded, and rushing toward Twitter to exclaim about it. 
Thankfully, Silver made decisions that seem to have left the entire league (outside of Sterling but he doesn't work here anymore) pleased with the outcome of such an embarrassing moment for the NBA. 
We've got all the scores, highlights and news from all of Sunday's games

The Rockets beat the Warriors 116-108 on Saturday night

The Cavaliers gave up 148 points in their loss Saturday afternoon to the Thunder
Blatt made the comment before coaching in the All-Star Game in Turkey

Is this rock bottom for the Cavaliers because it sure feels like it is

Wade, as he's done so many times in his career, threw it up to LeBron for the thunderous f...