Report: Warriors, Kings interested in Andre Miller trade
Sacramento and Golden State are two teams who would be interested in a trade for Andre Miller if the Nuggets make him available.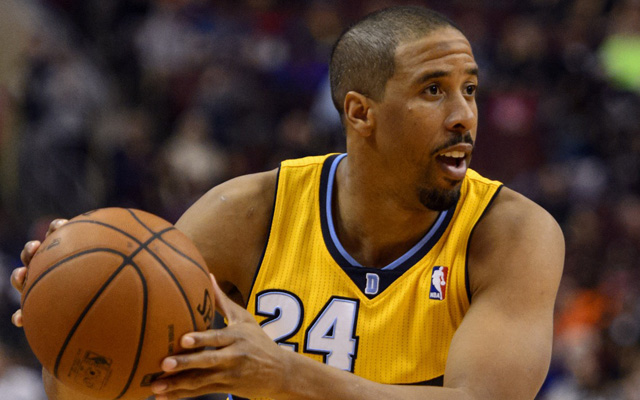 Yahoo Sports reports that both the Kings and Warriors are interested in acquiring veteran point guard Andre Miller should the Nuggets decide to move on given the recent rocky relations between Miller and head coach Brian Shaw. 
The Nuggets suspended Miller two games Thursday following his outburst on the bench during Denver's loss to the 76ers at home Wednesday. Shaw said Thursday that the team was planning on moving on from the incident. 
Shaw: A decision was made for Andre to be suspended over the next 2 games. It's something being handled internally. #Nuggets

— Raj Sharan (@Raj_Sharan) January 3, 2014
Shaw: Basically it just came to a boiling point, we made our decision and we're moving forward. #Nuggets

— Raj Sharan (@Raj_Sharan) January 3, 2014
Shaw on A.Miller: I haven't had a conversation yet, I will before he comes back. #Nuggets

— Raj Sharan (@Raj_Sharan) January 3, 2014
Miller is averaging 5.9 points and 3.3 assists this season for Denver, playing a career-low 19.0 minutes per game.
The Warriors have been dealing with a thin bench all season since letting Jarrett Jack go in free agency. Toney Douglas isn't Miller's caliber, so it would definitely be an upgrade. The trick is finding something the Nuggets would take back for the veteran guard who is extremely popular in Denver, even if his role has been pushed to the edges. This conflict was unavoidable given the minutes crunch with Ty Lawson and Nate Robinson, and Shaw's preference for playing bigger two-guards like Randy Foye and Jordan Hamilton over two-point-guard lineups. 
Sacramento makes almost no sense, given that they just cleaned out their backcourt and made sense of it. A rebuilding team also doesn't seem like a great place to put Miller, who has been brutally honest in recent years about his team's ability to win. He's extremely well-respected in the locker room, though, and provides a great veteran work ethic as an example. But you'd have to think a contending team like Golden State is a better fit. 
Denver seems committed to trying to make the relationship work for now, whic is weird, since Denver's looking to the future and Miller's time in his career is running short. He needs to chase a title, and being DNP-CD'd as he was Wednesday in the loss to the Sixers may happen again given Shaw's philosophies. 
DH12 is picked for free throws after a teammate gets ejected. He makes both, and lets Scott...

Bell was injured defending a Robin Lopez dunk and had to be taken off the floor in a wheel...

Trevor Ariza and Gerald Green are reportedly both suspended two games
We've got all the scores, highlights and news from the night's games

Jonah Keri talks with NFL and NBA broadcaster Ian Eagle

SportsLine simulated Wednesday's Nuggets-Clippers game 10,000 times