Report: Warriors' Mark Jackson forces Brian Scalabrine reassignment
Golden State Warriors coach Mark Jackson has reportedly forced the reassignment of assistant coach Brian Scalabrine.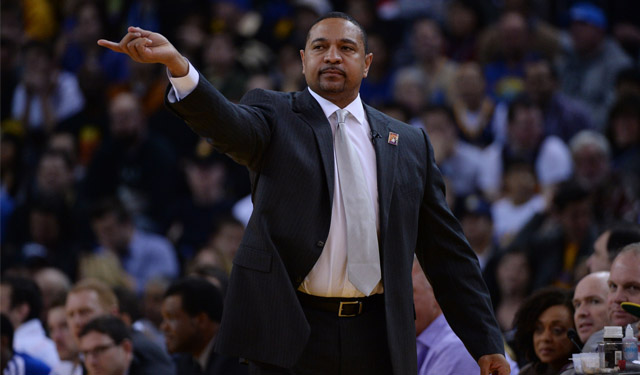 During the early part of the season, the Brooklyn Nets had plenty of coaching drama when Jason Kidd reassigned assistant Lawrence Frank to doing daily reports and not being so heavily involved with the day-to-day coaching of the team. It eventually died down and the team worked out a lot of their issues on the court. The Golden State Warriors will now have to hope for the same, after Mark Jackson reportedly did something similar to Kidd.
Adrian Wojnarowski of Yahoo Sports is reporting that Jackson forced the reassignment of assistant coach Brian Scalabrine, who is a favorite of management and ownership in the Warriors' organization. With Jackson as the coach, the Warriors are making sure he has control over his coaching staff as they try to turn a frustrating situation into a more functional one heading into the playoffs.
In what's become an increasingly dysfunctional atmosphere,Golden State Warriors coach Mark Jackson has forced a reassignment of assistant coach Brian Scalabrine, league sources told Yahoo Sports.

Ownership and management have been strong advocates of Scalabrine and his performance on the job, sources told Yahoo Sports. Nevertheless, Warriors officials decided that as long as Jackson is the head coach, he'll have control of his coaching staff.

It is immediately unclear what kind of a role the Warriors will transition Scalabrine, but management has no intention of letting him leave the organization, sources said.
Jackson has had plenty of issues with his assistant coaches since taking over the Warriors' job in 2011-12. While the team has had success in two of his three seasons as the coach, he's had frustrating relationships with Michael Malone, now the coach for the Sacramento Kings, among others. The latest issue with Scalabrine, and the fact that he's being kept around in the organization, looks like they may just be trying to make the best of an awkward situation until Jackson's contract is finished next season.
The Warriors were supposed to be title contenders this season, and while they're still quite good with a record of 44-27, they haven't shown the tangible improvement consistently to look worthy of some of the preseason hype bestowed upon them. There's still plenty of time to figure it out and make a run in the postseason, but you have to wonder how many more seasons of Jackson at the helm we'll see in the Bay Area.
Fergie: 'I'm a risk taker artistically, but clearly this rendition didn't strike the intended...

Victor Oladipo had a successful R&B album over the offseason and Jamie Foxx is a fan

Klay Thompson makes sure he stands out during All-Star Weekend
There's no shortage of moments to choose from

The Trail Blazers almost traded for Charles Barkley, but when they didn't, it put them in debt...

The self-proclaimed ASG snub Williams may be bitter about Butler requesting to sit out Sun...