Report: Warriors re-engage Wolves in trade talks for Kevin Love
Golden State still won't include Klay Thompson and that should still be a deal-breaker.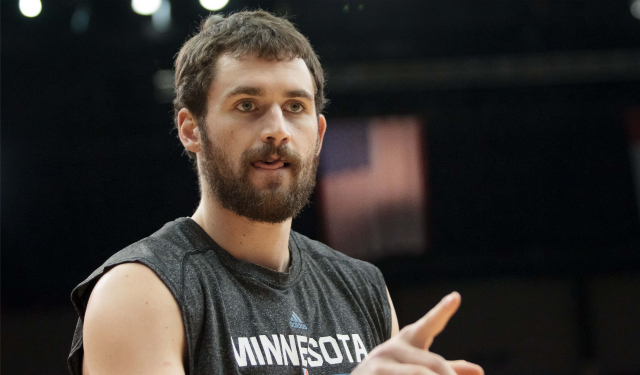 More Offseason Analysis: Updating Free Agency news | Free Agent tracker
The AP reports that the Wolves and Warriors are talking a Kevin Love trade again, despite there being not much in the way of wiggle room on the deal.
The Minnesota Timberwolves and Golden State Warriors have reopened trade talks for All-Star forward Kevin Love, a person with knowledge of the situation told The Associated Press on Tuesday.

With most of the NBA in Las Vegas for summer league games, the sides have had a chance to meet face-to-face to talk about a deal mentioned as a possibility for more than a month. The person requested anonymity because both teams are not publicly commenting on trade discussions.

Timberwolves president and coach Flip Saunders was seen talking to Warriors general manager Bob Myers at the arena on Sunday as the teams look to bridge the gap that caused discussions to stall. The Warriors have been reluctant to include shooting guard Klay Thompson in any package, which has been considered a deal-breaker for the Timberwolves.
via Warriors, Timberwolves Reopen Trade Talks For Kevin Love « CBS San Francisco.
The Warriors and Wolves have been talking for months trying to hammer out a deal to send the superstar rebounder and three-point shooter to Golden State after Love made it clear to team officials he would not re-sign as a free agent next summer. 
The AP goes on to report that the Warriors have not moved on their position of not including Klay Thompson, only offering David Lee and his massive $30 million-over-two-years-remaining contract along with Harrison Barnes and a future first-round draft pick that is essentally guaranteed to be in the mid-20's given how good the Warriors would be with Love. 
Let's just say that's not exactly the sweetest candy in the store. 
How Saunders handles this is huge. If he accepts less than market value for Love, he risks winding up not only losing his superstar, but limiting the team's flexibility, even if they move Kevin Martins' roughly $20 million remaining over three years in cap space. While the rebuilding Wolves don't need cap space to sign players, since no one's going to want to play there anyway, having that cap space is vital for being able to accept salary. That's how the Utah Jazz landed the Warriors' picks for nearly nothing last summer. 
Meanwhile, there continues to be the thought that the Wolves lack leverage and don't have strong enough suitors to play hardball. But they have until the trade deadline in February, with no real hope of going forward if Love leaves, so playing through the season with he distraction is still better than the alternative and disappearing entirely once Love leaves. And on top of Cleveland's internal debate about trading Wiggins, there's the fact that Boston, which Love visited last spring, has nine first-round picks, two rookies in Marcus Smart and James Young, and expiring contracts to send back. The Celtics can trade for Love and still have assets left over for a third major deal. 
If Saunders winds up taking the discount buffet platter the Warriors are offering, it would be a terrifying sign of things to come for Minnesota and an indication that they're not going to be building anything worth the fans getting excited about for several years. Thompson has to be included for this to even be the start of a discussion. 
Salary information courtesy of ShamSports.com.
The Pistons put out a long list of details regarding their new uniforms

The Pacers traded the forward to OKC for two former lottery picks who have yet to reach their...

Gilbert said what was expected, but didn't necessarily sound all that confident
Altman addressed the media about Irving during his introductory news conference

Toronto's center has an uncertain future; can we still talk about this 25-year-old's poten...

Oakley was vague with his response on when he'd attend another Knicks home game