Report: Warriors shopping for bench upgrade with trade exceptions
Golden State is looking to use previously acquired trade assets to upgrade its lacking bench.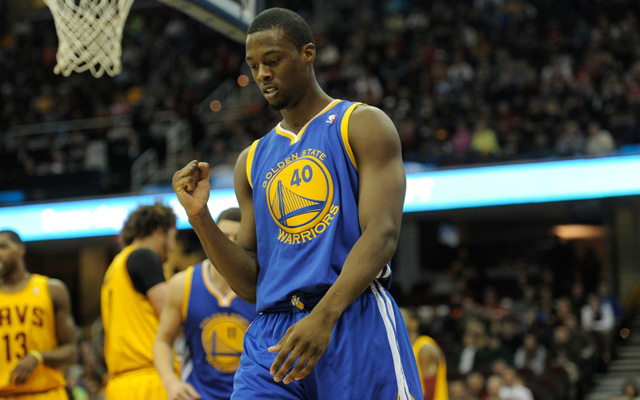 The Warriors are making it known they're open for business. Following a report Monday that Golden State is willing to trade anyone but Stephen Curry and Andrew Bogut for an upgrade comes this, from USA Today: 
According to a person with knowledge of the Warriors' situation, Golden State is on the lookout for bench help and is hoping to use its trade exceptions as a way to facilitate such a deal that would likely need to involve three teams. The person spoke to USA TODAY Sports on the condition of anonymity because of the private nature of trade discussions.

The Warriors have two sizable trade exceptions ($9 million and $4 million) that don't expire until next summer, as well as two smaller exceptions (approximately $780,000) that expire on Feb. 17.

The Warriors are approximately $2.5 million under the league's luxury tax threshold and would only consider using the largest of their exceptions for a major impact player.
via Warriors looking for help as trade deadline nears.
This seems more in line with what Golden State's approach has been than a panic trade at the deadline. They need to upgrade the successful team they have to make it better, not abandon the whole concept because it hasn't lived up to expectations for a variety of reasons. 
Using the exception to bring in bench help from someone who's just looking to clear salary would be smart. The Warriors need to be opportunistic, not desperate. And there will likely be those kinds of players available later next week as the reality starts to sink in that teams aren't getting first-rounders for what they want. 
The exceptions can prove useful, though they often go untraded. The big question mark on everyone's mind is Harrison Barnes. The Warriors drafted Barnes after a long period of looking for a veteran upgrade at small forward, then nabbed him when they couldn't move the pick. They shopped last season's deadline for a small forward, according to reports, then signed Andre Iguodala in free agency. 
They know his value, but they've also made it clear he's not some untouchable commodity, especially after his struggles this season. With eight days before the NBA trade deadline, we'll have to see just how urgent the Warriors consider an upgrade to be. 
The singer of the national anthem at the Nets game took a knee at the end

This was the Lonzo Ball people were expecting out of college

Antetokounmpo finished with 34 points, 8 rebounds, 8 assists, and 3 steals, but the Cavs won,...
John Wall is proud of his ability to block shots and thinks nobody at his position has been...

Giannis went at LeBron on a fast break, but LeBron won the matchup

Boucek most recently was head coach of the Seattle Storm in the WNBA