Report: Warriors to chase Steve Kerr 'hard' if Pistons land Van Gundy
With Steve Kerr and the Knicks having yet to agree on a contract, the Warriors could put themselves back in the discussion.
• 1 min read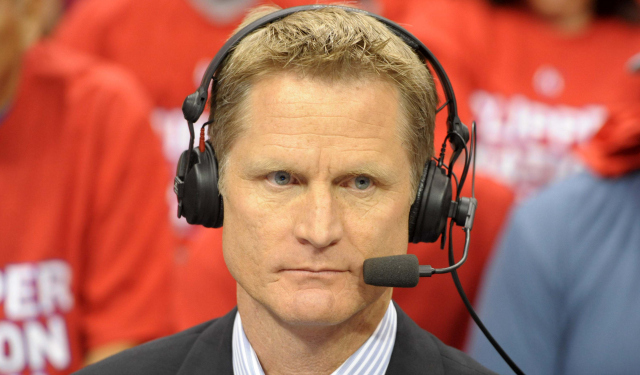 More: Knicks want to pay Kerr like first-time coach | Deal done by combine?
The Golden State Warriors might be pursuing Steve Kerr aggressively for their vacant head coaching position shortly, according to Yahoo Sports' Adrian Wojnarowksi:
As Knicks-Steve Kerr lock in staredown over deal terms, Golden State will go hard at Kerr again if Van Gundy takes Detroit, sources say.

— Adrian Wojnarowski (@WojYahooNBA) May 13, 2014
Stan Van Gundy's seriously considering Pistons offer of full control, torn on that opportunity vs. coaching Warriors, sources tell Yahoo.

— Adrian Wojnarowski (@WojYahooNBA) May 13, 2014
Van Gundy reportedly has an opportunity to construct and coach a roster in Detroit, and that might be even more appealing than the superior talent in Golden State. 
According to Tim Kawakami of the San Jose Mercury News, Van Gundy was the Warriors' top coaching candidate as of Tuesday morning, but "it doesn't sound like they will" re-open negotiations with him, and they will pay top dollar for Kerr.
The Knicks reportedly do not want to pay an exorbitant salary for Kerr, who has no coaching experience.
If all this seems a bit confusing, that's OK. Things keep changing with Kerr and Van Gundy, and the Pistons have muddied things up with their offer of full control. At some point soon, either Kerr or Van Gundy will accept one of these jobs, and that decision will have a domino effect on the rest of the coaching market. 
Fergie: 'I'm a risk taker artistically, but clearly this rendition didn't strike the intended...

Victor Oladipo had a successful R&B album over the offseason and Jamie Foxx is a fan

Klay Thompson makes sure he stands out during All-Star Weekend
There's no shortage of moments to choose from

The Trail Blazers almost traded for Charles Barkley, but when they didn't, it put them in debt...

The self-proclaimed ASG snub Williams may be bitter about Butler requesting to sit out Sun...