Report: Warriors turn to Hollins after missing out on SVG, Kerr
Could Golden State hire Lionel Hollins? Reports indicate he's their next target, and he's offering to bring on an offensive assistant in Paul Westphal.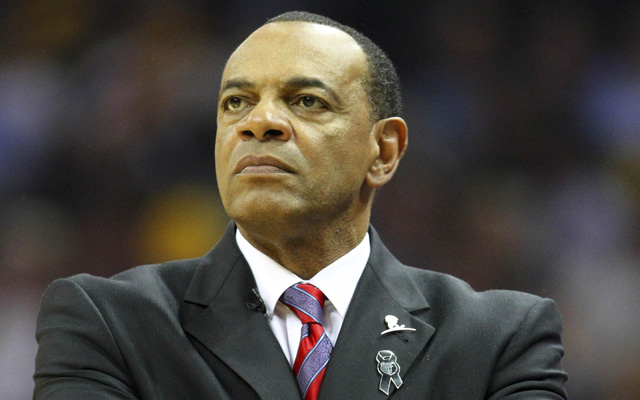 More Offseason Analysis: Coaching changes, news | Free Agency | Draft
The San Jose Mercury News reports that after the Warriors watched as the Detroit Pistons swooped in and grabbed Stan Van Gundy for coach and President of Basketball Operations, and with no indication that they can pry Steve Kerr from Phil Jackson's Zenmaster fingers, Golden State has turned its attention to the next candidate in line, Lionel Hollins. 
That puts the Warriors back to the drawing board, and it puts Lionel Hollins in play. If it doesn't, it should. After Van Gundy, the next best thing available is Hollins. There is interest from Warriors management, per one source, and some in the front office might even be of the opinion the Warriors should have already locked up Hollins. So if their clear first two choices don't pan out, Hollins will likely get some attention from the Warriors.

...

To that end, I'm told Hollins is going to bring on a respected offensive mind as an assistant. No doubt, the Warriors would want to approve, but one name being linked to Hollins as an offensive-guru assistant is Paul Westphal.
via Thompson: Is Lionel Hollins next up for Warriors? - San Jose Mercury News.
So... real quick... you want to now hire a former player with a gruff motivational approach who doesn't like being told what to do, isn't super receptive to advanced analytics and clashed with a new regime's way of doing things. 
... And you fired Mark Jackson, why?
Hollins does have some advantages as a replacement. He's a much better tactician than Jackson is, he possesses the same motivational approach, and as stated above, he's willing to bring in an offensive consultant after his teams in Memphis set offensive basketball back 40 years. 
But it just seems like a very sideways move for a franchise that gambled it could find someone better to do the job. Maybe Hollins, who was loved by everyone in the organization in Memphis outside of the front office, will prove to essentially be an A-level version of Jackson. But it makes you nervous that he's getting hired as the next best candidate, and not maybe for being the best fit.
Those guys may simply be off the board. 
Ersan Ilyasova isn't quite the player he used to be, but maybe the 76ers can bring the best...

LeBron James speaks his mind and that's part of what makes him a superhero to Gregg Popovi...

Dan Fegan was once considered as one of the most influential agents in the NBA
We've got all the scores, top plays and news from Sunday's NBA games

Stephen Oh has his finger on the pulse of Wizards basketball and released a play for Sunda...

The Warriors don't have any interest in winning a popularity contest. They're fine winning...