Report: Wizards agree to five-year extension with John Wall
The Wizards and John Wall have agreed on an $80 million maximum level extension, according to a report.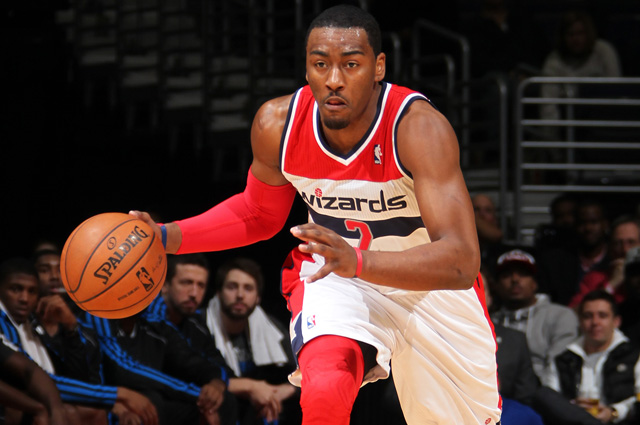 Locked up. 
After entering into advanced negotiations a few days ago, the Wizards have signed John Wall to a long-term contract. According to the Washington Post, Wall has signed a five-year, $80 million extension that makes him the franchise's designated player. 
The official press conference to announce the extension is expected to be held Thursday.
The Wizards and Wall have until Oct. 31 to agree on an extension before the former No. 1 overall pick would become a restricted free agent. 
The team and Wall opened negotiations a few weeks ago and have been steadily progressing towards an agreement. 
Wall, 22, missed the first 33 games of last season because of a knee injury, but after he returned was very good and the Wizards were surprisingly competitive. In 49 games last season he averaged 18.5 points and 7.6 assists as the Wizards finished the final 50 games right at .500. 
Wall has yet to really completely realize his full potential, but part of that has been the somewhat dysfunctional culture he was drafted into. The Wizards have attempted to restructure their roster over the past few seasons to build a much more developmentally friendly environment. 
Not allowing Wall into restricted free agency was a no-brainer, mainly because you don't want to upset the player that's supposed to be your franchise cornerstone. The Wizards are trending in a positive direction for the first time in a while, and a lot of that is because of Wall's potential and promise. Getting him locked in for five more seasons is a pretty simple and easy thing to do.
The former Clipper apparently had some tricks up his sleeve after a chippy game

The Rockets were apparently looking for Austin Rivers and Blake Griffin after a chippy gam...

If they don't meet in the Finals again, let's appreciate every one of the 27 matchups since...
D-Wade picked up the steal and got creative on the fast break as the Cavs headed into half...

Despite the embarrassing hiccup, the youngest Ball had himself a pretty great day on the c...

The players were both ejected in the closing seconds, then continued their discussion off the...