Report: Wizards' Drew Gooden won't play for Finland at FIBA World Cup
Drew Gooden reportedly won't have dual citizenship in time to play for Finland in Spain.
• 1 min read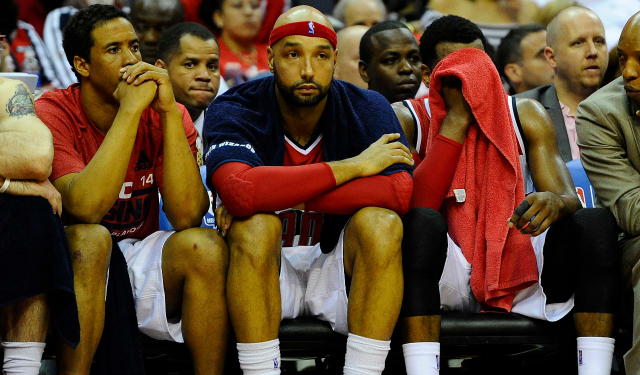 Washington Wizards big man Drew Gooden, whose mother is Finnish, planned to play for Finland in the 2014 FIBA World Cup. His application for dual citizenship, however, won't be cleared in time to do so, according to the Washington Post's Jorge Castillo.
Finland's submitted 12-man roster did not include Gooden, according to a Finnish report. He begun the paperwork process during Washington's first-round series this past spring, per the Washington Post, and he recently said he wanted to make this happen eventually regardless of what happened this summer:
"If something happens and there's a bump in the road where this is not possible this year, I'm still going to be going there and supporting the team, supporting the players in Spain and start to build a relationship for the future for years to come," Gooden said. "Either way you want to see it, I'm still going to get my dual citizenship and I am going to become a Finnish citizen, whether I'm playing on the team or not, eventually."
This is bad news for the Finnish national team, which would have presumably made Gooden its go-to guy. Cavaliers forward Erik Murphy will remain on the roster, though -- he already has a Finnish passport.
The FIBA World Cup begins on Aug. 30.
James Harden is the only player representing the best team in the NBA

Adam Silver sees a 1-16 playoff as a real possibility in the future if they can figure out...

Galin Dragiev is SportsLine's No 1. NBA expert and locked in a pick for Team LeBron vs. Team...
LeBron and Durant both responded to a newswoman's recent comments, telling them to 'shut up...

Mitchell's Slam Dunk Contest win was the icing on the cake of an incredible run of success

Dennis Smith Jr. had a great dunk contest, but the judges didn't feel the same way