Report: Wizards made 'several attempts' to trade for Nelson
Orlando guard wasn't moved, but Washington apparently wanted him.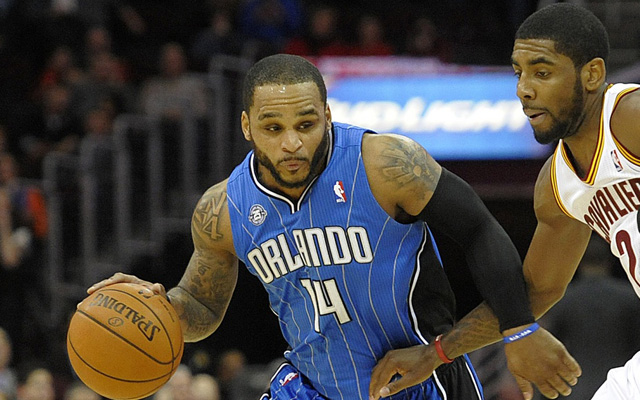 John Denton of OrlandoMagic.com reports that the Wizards made several efforts to trade for Magic point guard Jameer Nelson at the trade deadline. Via Orlando Pinstriped Post: 
Has to be surreal for #Magic PG Jameer Nelson being in Wash. considering #Wizards made several attempts to trade for him before deadline.

— John Denton (@JohnDenton555) February 25, 2014
Nelson would have been a phenomenal fit for the Wizards, giving them a subsantiallly better backup than Andre Miller who they traded Jan Vesely and Eric Maynor for in a three-way deal before the deadline. He can shoot, run an offense, and has extensive playoff experience. He'd be a lot more useful for them than he is for Orlando. 
Nelson has one year left at $8.6 million on his contract, but it's not guaranteed. So the Magic had the leverage to push for what they wanted, which was probably a future first-rounder. (The Wizards traded their 2014 first-rounder to Phoenix for Marcin Gortat.)
Nelson is averaging 12.4 points, 3.4 rebounds, and 6.7 assists per game this season. Victor Oladipo has begun taking more and more of the late-game scoring opportunities for the rebuilding Magic. 
Irving has requested a trade away from the Cavaliers

The Lakers made a strong push for Rose, but he would have been a backup in Los Angeles

The small forward spent last season with the Sacramento Kings
Knight still has three years left on his five-year, $70 million contract

The Golden State forward is accused of assault, battery and making misleading statements

The Nets get their shooter a year later, and the Blazers reportedly will waive Nicholson