Report: Wizards, Mavericks, Pistons interested in Luol Deng
All-Star's impending free agency and reluctance to sign extension complicating trade talks.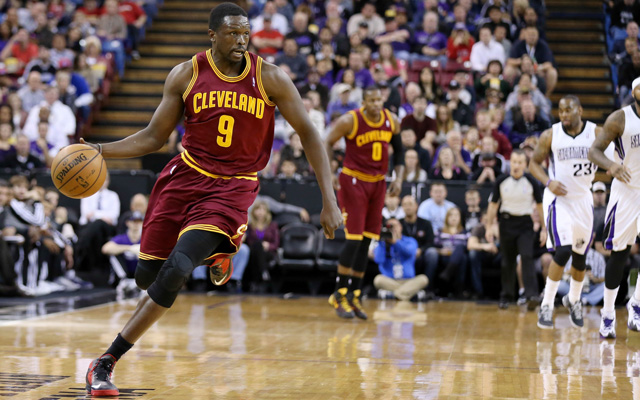 The Cleveland Cavaliers traded for Luol Deng last month, shortly before their epic collapse that resulted in the firing of their GM, Chris Grant. Then they went on a run and are currently on a six-game winning streak. But with Deng an unrestricted free agent this summer and things not exactly going gangbusters, the Cavs are fielding calls for the All-Star forward. 
Hearing: Wizards -- who tried to acquire Luol Deng from Bulls at last NBA Draft -- are among teams in Deadline Day talks with Cavs on Deng

— Marc Stein (@ESPNSteinLine) February 20, 2014
The Wizards have quality forwards to offer in return including Martell Webster and Trevor Ariza, but don't have a first-rounder to throw in. Deng would be a superb fit in Washington, though, giving them an upgrade over Ariza who is already a great defender and a substantial boost offensively. It also fits with Washington's M.O. of forsaking the future in any conceivable way in order to pursue short-term gains. The cause for Cleveland's impatience with moving Deng is reportedly the same reason behind why they can't get a deal.
Forward Luol Deng's reluctance to commit to a long-term extension with any team before July free agency makes it unlikely that the Cleveland Cavaliers can find a willing trade partner before Thursday's NBA deadline, league sources told Yahoo Sports.

The Cavaliers have had conversations with several teams, including Dallas, Detroit and Indiana about Deng, league sources told Yahoo Sports. Nevertheless, there's no traction on a deal and no team seems inclined to give up valuable assets for a player who could walk away in free agency.

Deng is determined to investigate free agency in July before making a decision to stay with Cleveland, sources said.

Cleveland has tried to get a sense of Deng's openness to re-signing this summer, and Deng has expressed a willingness to consider the possibility, league sources said. Deng has yet to play at a high level in Cleveland, where he's found a young team in flux, a significant contrast from the structure and stability of the Chicago Bulls.
via Sources: Luol Deng unwilling to commit to extension anywhere, trade from Cavs unlikely - Yahoo Sports.
This does however set up the possibility of a deal, because a team like Dallas is certain to be way more confident in re-signing Deng than Cleveland. Deng can make upwards of $16 million per season in free agency this summer. 
We've got all the scores, highlights and news from all of Sunday's games

The Rockets beat the Warriors 116-108 on Saturday night

The Cavaliers gave up 148 points in their loss Saturday afternoon to the Thunder
Blatt made the comment before coaching in the All-Star Game in Turkey

Is this rock bottom for the Cavaliers because it sure feels like it is

Wade, as he's done so many times in his career, threw it up to LeBron for the thunderous f...