Report: Wolves, Cavs have 'handshake agreement' on Wiggins-Love trade
Thaddeus Young could be traded to Minnesota and Anthony Bennett to Philadelphia in deal.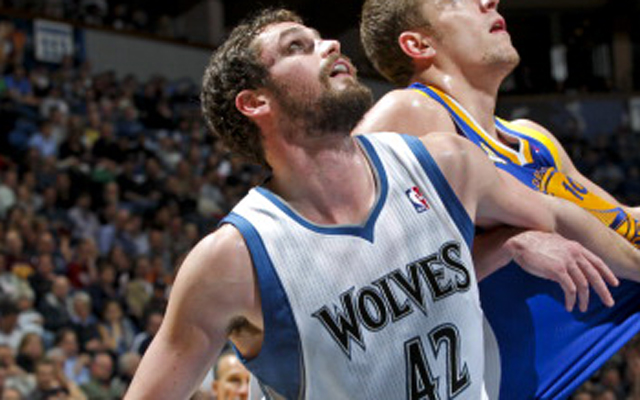 Offseason: Free Agency | Latest from Ken Berger | Rumors
In an interview with ESPN New York radio, reporter Brian Windhorst, pretty well-connected to the Cleveland Cavaliers, reports that there is a "handshake agreement" between the Cavaliers and Minnesota Timberwolves for a Kevin Love trade. 
The situation is complicated by the 30-day moratorium after the signing of Andrew Wiggins which expires later this month, the centerpiece of the deal. That means that in that time period, if some team blows the Timberwolves away with an offer, the Wolves could back out and go that direction. Windhorst describes the deal as "done but not done."
"The deal is done but not done," Windhorst said. "The teams have agreed but can't say they've agreed because we're in this weird moratorium period. Between now and then could a team come in with a trade that Minnesota doesn't see? Yes, so it's not done. But there is this handshake agreement." 
Windhorst also mentions that Thad Young could be headed to Minnesota in the deal, and former No. 1 overall pick Anthony Bennett could be rerouted to Philadelphia. 
Thad Young to Minnesota makes a lot of sense. The Wolves have Gorgui Dieng for a young power forward/center and Young gives them a versatile 3/4 combo forward. Most importantly, he's a veteran, which Flip Saunders seems to be focused on. With Wiggins and Young, the Timberwolves might have an outside, outside, back-back-back-back-to-the-wall chance of making the playoffs. 
Bennett for the Sixers would be genius. It's a chance to buy low for a high-upside talent. Bennett looked terrible last season dealing with sleep apnea and recovering from shoulder surgery. He showed flashes as he got comfortable. Then after losing weight in the offseason, he showed out in Summer League. Paring him with Nerlens Noel might actually make the Sixers, you know, not absolutely terrible. 
The Pistons put out a long list of details regarding their new uniforms

The Pacers traded the forward to OKC for two former lottery picks who have yet to reach their...

Gilbert said what was expected, but didn't necessarily sound all that confident
Altman addressed the media about Irving during his introductory news conference

Toronto's center has an uncertain future; can we still talk about this 25-year-old's poten...

Oakley was vague with his response on when he'd attend another Knicks home game