Report: Wolves exploring trades; Varejao, Redick targets
Minnesota is reportedly exploring trade possibilities, including J.J. Redick and Anderson Varejao.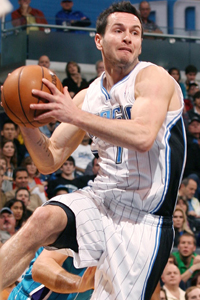 Could Redick join the Wolves? 

(Getty Images)
The Wolves have been difficult to figure out. They played above expectations before Kevin Love's return, then below when he got back. They landed a big win against Denver on Thursday night on the road. But overall, it's hard to determine where they are. It's not that they're bad, or great -- they're just inexplicable. 
ESPN 1500 in Minnesota reports that while GM David Kahn wants to see how the entire team plays together with Love and Ricky Rubio back in action consistently (Rubio missed Thursday's game with back spasms), the Wolves are also being proactive in looking for an addition through trade. 
-- If Pekovic doesn't get $12 million a year, the hunch is he'll come close. That makes me wonder, if Kahn can find the right replacement, whether he'll pull the trigger.

That could be Cleveland's Anderson Varejao. According to two league sources, the Wolves and Cavaliers have had discussions, albeit brief, about Varejao.

-- The fact is Kahn and Adelman love the thought of Gasol in their offense. Adelman's recipe for success in Sacramento was due in large part to Chris Webber and Vlade Divac. The Wolves look at Love and Gasol as comparable to that duo.

-- An unrestricted free agent this summer, the indication is (J.J. Redick is) going somewhere. The Wolves are the worst 3-point shooting team in the NBA, so Redick is an obvious fit.

It'd take forward Derrick Williams, plus a future first-round pick, just to get into the discussion. There will be plenty of teams after Redick.

The best bet is that Kahn does something, but it may not be until the week, or even the day, of the deadline.
via The Scoops: J.J. Redick among possibilities as Wolves ponder trades | 1500 ESPN Twin Cities – Minnesota Sports News & Opinion (Twins, Vikings, Wolves, Wild, Gophers) | Sportswire: Minnesota Timberwolves.
So, basically, the Wolves are interested in the three hottest trade options in the NBA. That's a shocker. 
Pekovic is providing a bit of a dilemma. He has become so good that he's likely to exceed what the Wolves planned for a player of his ability. So he does provide a bit of a luxury trade chip.
With the Lakers having put together one of their better runs of the season, the Gasol talk is on hold for the time being. 
But Redick's an interesting one. Here's the key with Redick. The teams that need him are teams like Memphis, Boston, Golden State and Chicago -- teams that are sub-contenders. But those teams also have very little in the way of trade offers. So if Minnesota wants to sneak in a shooter to try to help their bottomless pit of despair that is their 3-point shooting, Redick would be a great option that they might be able to sneak in the back door to nab. 
Varejao is much trickier. The Wolves would need to send a quality young player and a high draft pick to convince Cleveland, which seems reluctant to trade him at all. 
The biggest hang-up for Minnesota is likely Derrick Williams' value. No one knows if he's a 3 or a 4, and no one knows if he's a hidden talent or just a tweener bust. Until they figure that out, they'll be going on the fly for trade talks. 
Kris Dunn somehow took a chunk of the Bulls court out with his teeth, but didn't lose any in...

The fallout from the Rockets-Clippers tussle continues; no Clippers were disciplined

DH12 is picked for free throws after a teammate gets ejected. He makes both, and lets Scott...
Bell was injured defending a Robin Lopez dunk and had to be taken off the floor in a wheel...

Trevor Ariza and Gerald Green are reportedly both suspended two games

We've got all the scores, highlights and news from Wednesday night