Report: Wolves have made 'significant progress' with Joerger
Minnesota is trying to hire the Grizzlies' Dave Joerger as head coach amid the upheaval in Memphis.
• 1 min read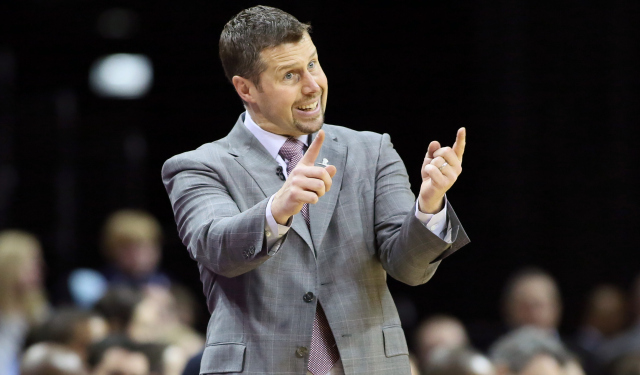 More Offseason Analysis: Coaching changes, news | Free Agency | Draft
UPDATE: According to Yahoo Sports' Marc Spears, Dave Joerger is not the Timberwolves' only candidate but will interview with them on Thursday:
Clarifying: Lionel Hollins, Sam Mitchell and Dave Joeger among candidates still in mix for Wolves head coach job, a source said.

— Marc J. Spears (@SpearsNBAYahoo) May 22, 2014
Wolves expected to interview Grizzlies coach Dave Joerger today, but possible compensation to Grizzlies a concern, a source said.

— Marc J. Spears (@SpearsNBAYahoo) May 22, 2014
And according to the Associated Press' Jon Krawczynski, Minnesota should not have a problem with compensation:
Unless Memphis plays hardball, compensation for Joerger will not be an issue for Wolves.

— Jon Krawczynski (@APkrawczynski) May 22, 2014
---
The Minnesota Timberwolves have made "significant progress" and are "gathering momentum" in their bid to pry away Memphis Grizzlies head coach Dave Joerger, according to ESPN.com's Marc Stein.
The Wolves are restricted to offering draft picks and/or cash to Memphis to free Joerger from his contract with the Grizzlies. But one source said Thursday that Joerger landing in his home state with the Wolves is "the way this thing is headed."
Joerger reportedly emerged as a frontrunner this week, after Memphis parted ways with CEO Jason Levien -- the man who hired Joerger -- and assistant general manager Stu Lash. The coach has a long history with Timberwolves president Flip Saunders and is a Minnesota native.
The Grizzlies went 50-32 under Joerger this season, making it to the playoffs despite a slow start and a significant injury to big man Marc Gasol. Memphis owner Robert Pera had to be talked out of dismissing Joerger before the team turned it around, according to ESPN.
After the front-office shakeup, it looks like the Grizzlies are fine with moving in a different direction but do not want to fire Joerger. If Memphis can get some compensation in a deal, all parties could end up getting what they want. It remains unclear exactly why the Grizzlies are going this route, though.
The Cavaliers, you might have heard, are slipping

Here's how to watch Jimmy Butler and the Wolves take on Blake Griffin and the Clippers

James Harden, Chris Paul take on one of the hottest teams in the Eastern Conference
We've got all the scores, highlights and news from all of Sunday's games

The Rockets beat the Warriors 116-108 on Saturday night

The Cavaliers gave up 148 points in their loss Saturday afternoon to the Thunder