Report: Wolves, Lakers, Bulls, Mavs interested in Parsons
Teams lining up for young wing scorer who's a restricted free agent this summer.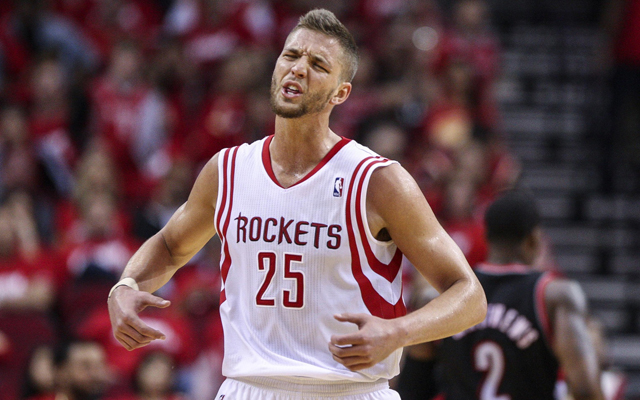 More Free Agency: Tracker | Top 40 rankings | Latest news, rumors
Yahoo Sports reports that Houston Rockets forward Chandler Parsons will get significant interest as a restricted free agent. For starters, Parsons could conceivably be part of a sign-and-trade package if the Rockets were to worm their way to the front of the line for Kevin Love from Minnesota. But if the Timberwolves aren't the answer, there's a long list behind:
If the Thompson trade doesn't happen, the source said Minnesota could attempt a deal sending Love to the Rockets and acquire Parsons in a sign-and-trade. The Los Angeles Lakers, Chicago Bulls and Dallas Mavericks have primary interest in signing Anthony as a free agent, but also could chase Parsons if they don't, a source said.
via Chandler Parsons' suitors could include T'wolves, Lakers, Bulls, Mavs, along with Rockets - Yahoo Sports.
These are all intriguing possibilities. The Wolves need to be careful with this. Parsons is an efficient score, and hyper-athletic. He's also not a guy well-suited, at least to what we've seen so far, to be a No. 1 offensive option on a team. And Ricky Rubio's diminished threat offensively could create even more problems for him.
But some of these other ideas are fascinating. The Lakers would get a true run-and-gun weapon shot-maker to put next to Kobe Bryant and Parsons has defensive upside beyond what he's shown. Would they want to eat signficantly into their 2015 and 2016 cap space to sign him, though? Even a $12 million offer would take up $36 million, or more than half their available cap space along with Kobe Bryant.
The Bulls need shotmaking. Literally, anyone who can put the ball in the basket is an upgrade. So pairing Parsons with Jimmy Butler on the wing could be really effective and his fit next to Derrick Rose is perfect.
Dallas is another terrific idea. Even with Monta Ellis and Dirk Nowitzki taking up most of the usage, Parsons would take the Mavs' already tremendous offense and push it to another level. Combine that with their acquisition of Tyson Chandler, with a smart, tough point guard and you've really got something cooking in Dallas.
Parsons is No. 9 on our top 40 free agents list. There's a reason the heavy-hitters are lining up. We'll see if he lands elsewhere or if the Rockets, without another big move, bring back the youngster. The Rockets can match any offer for him in restricted free agency.
Word got back to Irving that the team was discussing options, and he didn't like it one bi...

An ongoing investigation continues to reveal details about the Mavericks' workplace

Larry Hartstein has his finger on the pulse of Kings basketball and just released a play for...
One reported proposal has seeds 7-10 playing for the final two spots in each conference

The longtime Maverick says he's disappointed by all the negative news surrounding his beloved...

Larry Hartstein has nailed 17 of his last 22 NBA against the spread picks and locked in a play...