Report: Wolves ownership prefers' Wiggins-led Cavs package for Love
Minnesota leaning toward deal featuring Cavaliers' No. 1 pick Andrew Wiggins for All-Star forward Kevin Love.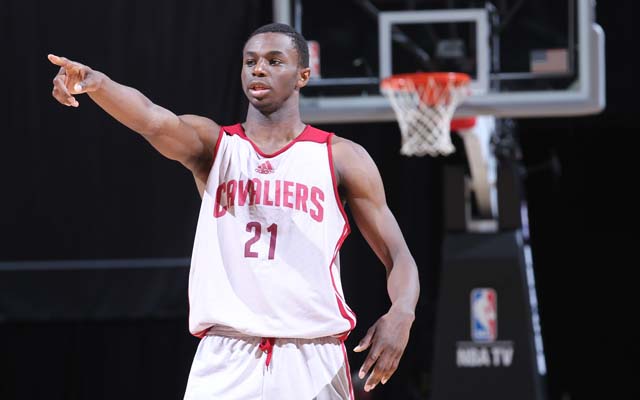 Offseason: Free Agency | Latest from Ken Berger | Rumors
ESPN reports on what's been floating around the last week or so in internet circles, that the Cleveland Cavaliers' offer of Andrew Wiggins for Minnesota Timberwolves forward Kevin Love has moved to the top of potential deals for the All-Star. Most notably, owner Glen Taylor is sold on the Wiggins option. 
Sources told ESPN.com that the Wolves, at present, are higher on a Cleveland trade package centered around Wiggins than any other offer on the table for Love.

ESPN.com reported Tuesday that the Cavaliers, meanwhile, are increasingly confident about their chances of landing Love and firmly believe they are progressing toward a trade framework that the Timberwolves will accept in exchange for the All-Star power forward, which would enable Cleveland to pair him with Olympic teammate LeBron James.

...

One source insisted this week, however, that the Wolves -- especially owner Glen Taylor -- actually now prefer a package headlined by Wiggins to a Thompson-led haul for Love because Wiggins is widely seen as possessing superstar potential while also just starting out on a rookie contract. Thompson is eligible for a lucrative contract extension from the Warriors or any team he's traded to between now and Halloween.
via Cleveland Cavaliers remain front-runner in Kevin Love trade sweepstakes, sources say - ESPN.
This is relevant on a number of levels. One, it's been assumed that the Cavs package would be most attractive, but to hear actual reported info on the Wolves' preferences is salient to the discussion. Two, notice how Taylor, not GM and coach Flip Saunders is not the one said to be most interested in Wiggins. There's been talk that Saunders wants established talent, which is why the Denver Nuggets keep floating as a a potential trade partner. This would seem to suggest something of a difference in approach between owner Taylor and tinkerer Saunders. The AP, though, says otherwise: 
Seen some speculation that Glen and Flip aren't on same page. I can assure you that's not the case. Both love Wiggins' potential

— Jon Krawczynski (@APkrawczynski) July 25, 2014
As I've discussed before, the issue comes down to potential vs. known quantity. But the same element exists for the Wolves. If they push for, and convince, the Warriors to turn over Klay Thompson (who Golden State is inexplicably holding out on moving for an All-Star, top-ten player), they get an established player. Same deal with Denver's offer of Wilson Chandler, Kenneth Faried, and pieces. The other side is Wiggins' potential, which could be insanely great, and could be horrific. Same deal with Boston and their bevy of picks. 
If the Wolves are OK rebuilding, Wiggins is the way to go. He ma not be truly great for three to four years. If they want to compete now, it's either Golden State, Denver, or Chicago. 
That's the question at hand, and it seems that the Wolves are leaning towards the smart move, taking the No.1 pick in the best draft of the past five years. Hard to argue with that plan. 
McCollum hurled a clever insult at the French forward

Hosts Bill Reiter and Reid Forgrave are joined by Blazers guard CJ McCollum

Check back throughout the night for the latest updates from Monday's NBA games
Garnett has worked with Maker and says he is reminded of himself

It might be a good time to place a bet on the Boston Celtics

SportsLine's Mike McClure, a DFS pro with more than $1M in winnings, gives optimal lineup...