Report: Wolves targeting Evan Turner in free agency
Minnesota is reportedly trying to sign former No. 2 overall pick Evan Turner.
• 1 min read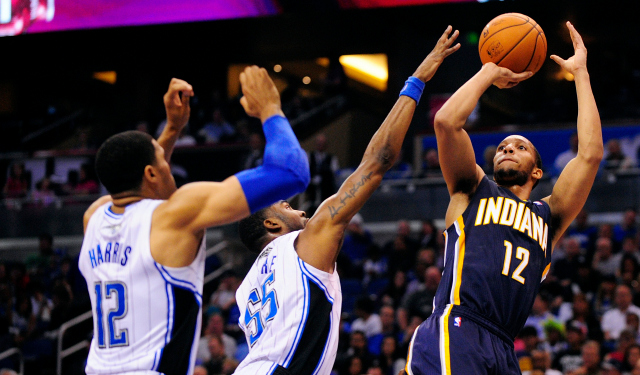 More Offseason Analysis: Coaching changes, news | Free Agency | Draft
The Minnesota Timberwolves are targeting unrestricted free agent Evan Turner, according to 1500ESPN's Darren Wolfson.
The Wolves reportedly are aiming to sign a free agent to a one-year deal, and Turner fits that bill. After a disappointing few months with the Indiana Pacers after a trade-deadline deal, he will not command a large salary this summer. If he's able to be productive on a one-year deal, the market for him could change next year.
Turner averaged just 7.1 points, 3.2 rebounds and 2.4 assists per game for the Pacers, shooting 41 percent from the field. He received DNP-CD's for much of the postseason. Things might be much different for him now if he hadn't been traded from the Philadelphia 76ers, where he averaged 17.4 points, 6.0 rebounds and 3.7 assists in 54 games last season.
The Cleveland Cavaliers are one of the other teams to have interest in the former No. 2 overall pick, according to 1500ESPN.
We've got all the scores, highlights and news from all of Sunday's games

Is this rock bottom for the Cavaliers because it sure feels like it is

Wade, as he's done so many times in his career, threw it up to LeBron for the thunderous f...
The Warriors coach added there should be no shame in being picked last since everyone's an...

We've got all the scores, highlights and news from all of Saturday's games

The two teams have reportedly not had any substantial discussions to this point