Report: Wolves will acquire Thaddeus Young for Bennett in Love deal
Minnesota will reportedly start Thaddeus Young at power forward.
• 1 min read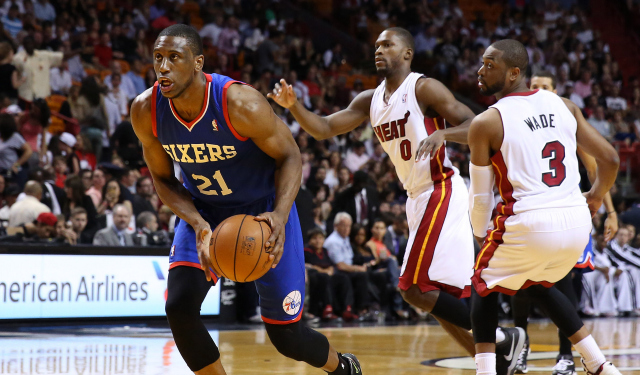 Offseason: Free Agency | Latest from Ken Berger | Rumors
The Minnesota Timberwolves will acquire Thaddeus Young in the agreed-to Kevin Love deal, and Anthony Bennett will land up with the Philadelphia 76ers, according to the Philadelphia Daily News. The move cannot be made official until Aug. 23, when Andrew Wiggins is eligible to be included.
A source informed the Daily News that the Sixers will be sending veteran forward Thaddeus Young to Minnesota for a package that will include Bennett, the No. 1 pick in the 2013 NBA draft.

…

It has been reported that Minnesota sees Young as the right guy to fill Love's shoes. The Timberwolves, it has been reported, could use the first-round pick they get from the Cavaliers to help entice the Sixers to part with the 26-year-old Young, but that has not been confirmed.
Sixers general manager Sam Hinkie reportedly would have done the Jrue Holiday trade at last year's draft for three players: Nerlens Noel, Victor Oladipo and Bennett. To get Bennett now for Young, who is not in the organization's long-term plans? That's a home run based on potential alone. The 21-year-old forward had a rough go in his first year after being drafted No. 1 overall, but showed in summer league why he was thought of so highly coming out of UNLV. Philadelphia is rebuilding with high-ceiling players, and Bennett fits the bill. 
This is risky for the Timberwolves, as the 26-year-old Young has two years and $19.1 million left on his contract and can opt out next summer if he chooses. It would put pressure on Minnesota to win now and convince the forward that is where he should spend his prime. Young is not old by any means, and he's the far more proven player, but there's a pretty good argument to be made that the better plan would be to keep Bennett and be patient with him. As CBSSports.com's Zach Harper noted, it'd be naive to expect the Wolves to compete for a playoff spot next season. It looks like that's what president and head coach Flip Saunders wants to do, though. 
This part of the trade has been rumored, so it's not a big shock. It's still a bit alarming that Minnesota wouldn't just want to build around the top picks in the last two drafts.
Chris Bosh answered on the spot about the LeBron James and Kyrie Irving situation

LeBron James is pitching free agents on Cleveland but the Cavs can't even reach Kyrie Irving...

Thanks to the Rockets, the Nets might be open to selling a controlling stake
Stephen Curry likes what he sees in this fan

How the Cavs star would fit with the Wolves, Knicks, Clippers, Spurs and other teams linked...

The Pistons put out a long list of details regarding their new uniforms