Report: Wolves willing to extend Ricky Rubio for 4 years, $42 million
Minnesota and Ricky Rubio are reportedly at an impasse in contract negotiations.
• 1 min read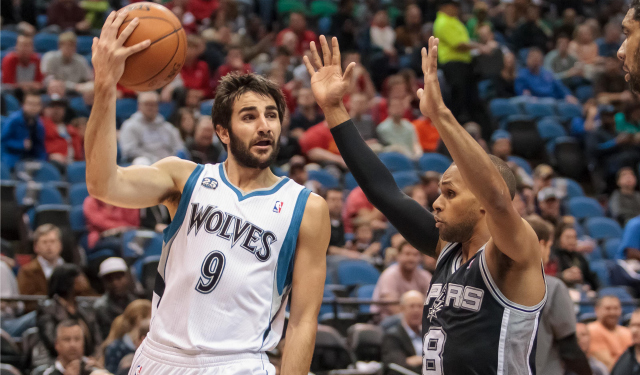 The Minnesota Timberwolves are willing to pay Ricky Rubio $42 million for four years, but his agents want the max and believe he can get more than what the Wolves are offering on the open market, per 1500ESPN's Darren Wolfson:
Fegan/Jarinn Akana will gladly extend for the max. #twolves RT @2_Shoe: @DarrenWolfson any indication of Rubio reluctance to re-sign w/ MN?

— Darren Wolfson (@DarrenWolfson) September 23, 2014
Re: Rubio, @Adam_Kuhn @2_Shoe - #Twolves would do a 4-yr deal in $42M range. That hasn't changed. Agents see NYK/LAL w/ cap space next year.

— Darren Wolfson (@DarrenWolfson) September 23, 2014
CBSSports.com's Zach Harper covered the Rubio dilemma in detail and a report earlier this week indicated that the two sides were "a good distance apart." Now it looks like we can see how much separates them.
There's an argument to be made that, if Rubio can get over $10 million a season, he should just extend before the Oct. 31 deadline. There are more talented point guards than ever, and it's not as if Rubio will be the only starting-caliber free agent point guard on the market next summer. Rajon Rondo, Kemba Walker, Reggie Jackson, Patrick Beverley, Brandon Knight and Jeremy Lin will all be available, barring extensions. Rubio is a valuable player, obviously, but it's not hard to imagine him winding up in an Eric Bledsoe-like situation a year from now. 
On the other hand, you can see where his agents are coming from. Playing out the season is a risk, but Rubio's price tag will go up if he has a better offensive season under Flip Saunders. It's also understandable that they'd want him to explore going to a huge market like Los Angeles and New York as a restricted free agent, given that those teams will have cap space.
From Thunder Dan to Pistol Pete to Agent Zero, guards who would be better these days

Griffin said recently he thinks it's more likely that LeBron James goes to New York than L...

Mayo was suspended for two years last summer for violating the league's anti-drug program
The NBA broke its silence with a statement related to the Lakers-Paul George tampering cha...

The Clippers big man thinks LeBron will reunite with the banana boat crew at some point

Have the Clippers reportedly found their next GM?