Report: Woodson under pressure from front office to change lineups
Mike Woodson reportedly being pressed to bench Shumpert, start Kenyon Martin.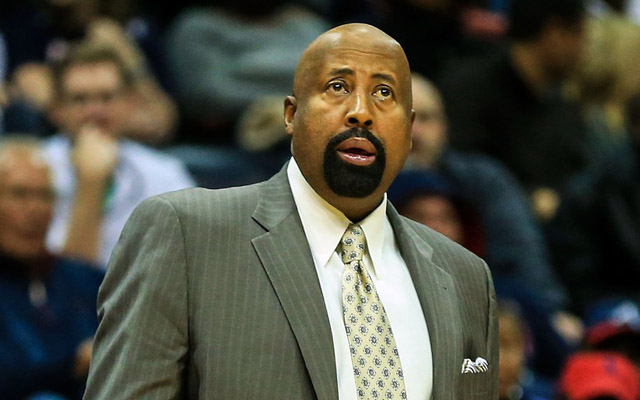 As the New York Knicks' disastrous start to the season continues to unfold, the pressure continues to mount on the team to find a solution. The New York Daily Newsreports that while coach Mike Woodson isn't on the hot seat at the moment, the front office is making demands on him to change his lineups approach.
The fall guy eventually will be Mike Woodson even though the head coach has the support of most of the locker room and apparently Dolan as well. Despite the Knicks' 3-6 start and five straight home losses, Woodson is not in imminent danger, according to a source, of being the next Knicks head coach to "resign" — which is Garden-speak for canned. If Lenny Wilkens and Mike D'Antoni both resigned, so will Woodson. Count on it.

Until then, the coach is safe, but the word from above is to tinker with the starting lineup, which likely will include shifting soon-to-be-traded Iman Shumpert to the bench and likely promoting veteran tough guy Kenyon Martin. The move allows Anthony to play small forward while placing a rebounding and defensive-minded forward next to Andrea Bargnani, a non-rebounding, defensively challenged forward/center.
via Knicks not giving Carmelo Anthony winning reason to stay in New York   - NY Daily News.
This makes a lot of sense, since Shumpert has the second-best on vs. off-court differential of anyone on the Knicks, and has been the one player to play well on both ends of the floor. So shaming him unto the bench whle promoting the woeful J.R. Smith makes a lot of sense.
As for Martin, the KMart-Bargnani-Melo combo has only played ten minutes together, but it was +9 in those nine minutes. It makes sense, playing into Anthony's strengths (New York's priority No. 1 at all times) while covering for Bargnani's weaknesses. It allows Melo to play smallball offensively while covering defensively. But is Martin a long-term answer? And even if he's not, do the Knicks have much of a choice, considering their lack of big man depth?
Yet the bigger question is this: Should a front-office that has so consistently tries to find short-term solutions to long-term problems really be this involved in coaching decisions?
Meanwhile, the Knicks face Indiana, Portland, and the Clippers before November is out, including a four-game road trip to end the month. If they don't find some answers soon, Christmas could get to be pretty dour around Madison Square Garden.
A report last week indicated Charlotte is looking to move Walker, along with one of its hefty...

Barea responds by claiming that none of Wall's teammates like him; the Wizards continue to...

Cousins finished with 44 points, 24 rebounds, and 10 assists
Love left Saturday's game, which the Cavs lost 148-124, due to illness

Kidd was fired by the Bucks on Monday afternoon

We've got all the scores, highlights and news from an NBA Monday