Report: Zach Randolph, Grizzlies discussing contract extension
The Grizzlies are in turmoil, but it appears they want their star power forward to stick around.
• 1 min read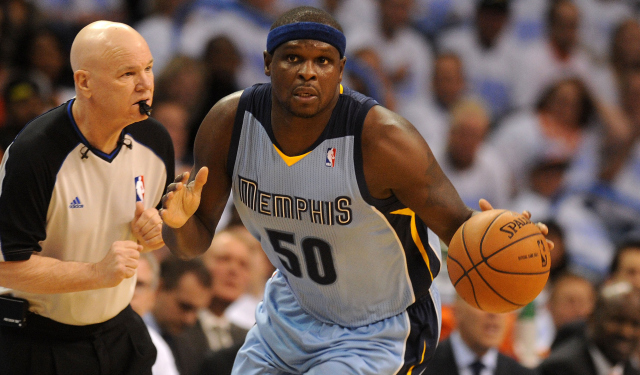 More Offseason Analysis: Coaching changes, news | Free Agency | Draft
The Memphis Grizzlies have begun contract-extension discussions with forward Zach Randolph, according to Yahoo Sports' Adrian Wojnarowski. The franchise recently fired CEO Jason Levien and assistant general manager Stu Lash, and head coach Dave Joerger was granted permission to speak to the Minnesota Timberwolves before deciding to return to Memphis. A report on Monday painted owner Robert Pera as a bit crazy, but Pera and interim GM Chris Wallace apparently have their sights set on keeping Randolph around, via Yahoo Sports: 
Randolph has talked directly with Pera in the past week and he and his agent Raymond Brothers sensed a serious commitment to keep Randolph in Memphis with a new deal.

…

"We have a great level of comfort and trust with Robert Pera and Chris Wallace," Brothers told Yahoo Sports on Monday. "Chris and I have been working together for years. He is a good guy."
Randolph has until the end of June to exercise his $16.5 million option for next season, but he'll be 33 years old in July and this is likely the last time he will be able to get a high-paying, multi-year contract.
The two-time All-Star averaged 17.4 points and 10.1 rebounds this season, and is obviously a huge part of Memphis' core. The question leading up to this off-season was whether or not the Grizzlies thought enough of that core to re-invest in Randolph for the future. It appears that they do, with Pera telling a fan in a Twitter Q&A on Sunday that they are close to a championship.
Thomas took to Twitter to let the Celtics know he doesn't want to ruin Pierce's night

The Hall of Famer was a seven-time All-Star with the Celtics, and was MVP of the 1976 Fina...

It's rare to see a legit punch in an NBA fight, but this was definitely one of them
We've got all the scores, highlights and news from an NBA Tuesday

The former Slam Dunk Contest champion will take his talents to Tri-State

Do NBA players have look-a-likes from famous paintings? We found out on the new Arts & Culture...