Reports: Bosh, Wade to meet with LeBron, haven't told Heat intentions
Miami Heat stars Chris Bosh and Dwyane Wade have reportedly not informed the team whether or not they will hit free agency.
• 1 min read
More Offseason Analysis: Coaching changes, news | Free Agency | Draft
With LeBron James opting out of his contract with the Miami Heat to become an unrestricted free agent, the next logical question is what Chris Bosh and Dwyane Wade will do. While they could hit free agency to give the team maximum flexibility when it comes to adding players this offseason, they have not informed the Heat of their plans, via the Associated Press' Tim Reynolds.
In the immortal words of Pat Riley, #GetAGrip. Everyone involved, on all sides, expected the opt out to come. Now the circus starts.

— Tim Reynolds (@ByTimReynolds) June 24, 2014
In simplest terms: If Wade and Bosh opt out, the conventional wisdom is that the Big 3 would stay together.

— Tim Reynolds (@ByTimReynolds) June 24, 2014
The three of them will discuss their future together, but this meeting has not yet taken place, according to Yahoo Sports' Adrian Wojnarowski.
Bosh has directly said that he intends to come back, so it would seem logical that he'd opt out and see what pieces Miami can add. In the meantime, if he wanted to talk with other teams, there would surely be plenty of suitors.
Wade is a different story. He is owed almost $42 million over the next two seasons, and given the way his body has appeared to break down in two straight NBA Finals, he would not command that sort of money on the open market. While they were all in the same draft class, Wade is two years older than James and Bosh and opting out would probably mean a significant financial sacrifice. Wade has been with the Heat his entire career, and it will be interesting to see if he's willing to take one for the team.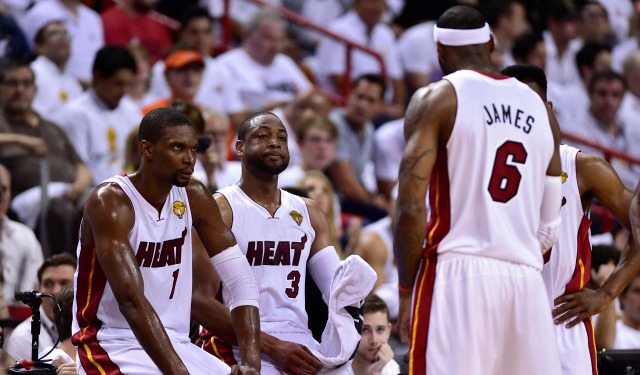 The inaugural BIG3 season comes to a close Sunday with the championship game

Thomas was traded to Cleveland yet some fans are taking it out on him ... and his jerseys

The Celtics dealt the No. 1 pick to Cleveland as part of the Kyrie Irving-Isaiah Thomas tr...
Thompson was rumored to have been a point of discussion with the Cavs regarding Kyrie Irvi...

What the Celtics and Cavs look like after the Eastern Conference powers swap point men

Simmons was the No. 1 pick in the 2016 NBA Draft but did not play last season