Reports: Cavaliers reach out to Mark Jackson
Cleveland has reportedly contacted ex-Warriors head coach Mark Jackson about their coaching vacancy.
• 1 min read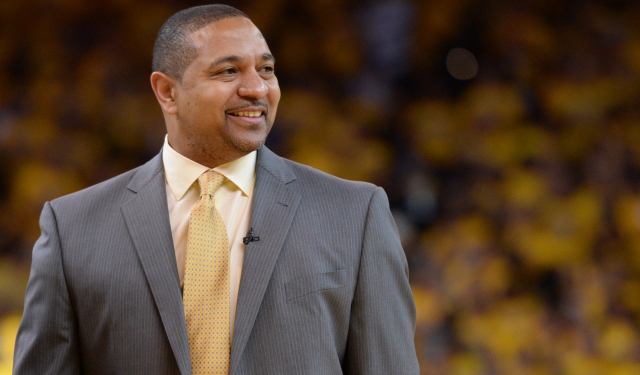 More Offseason Analysis: Coaching changes, news | Free Agency | Draft
Cleveland Cavaliers general manager David Griffin has spoken with ex-Golden State Warriors head coach Mark Jackson about the team's coaching vacancy, as reported by ESPN's Chris Broussard and confirmed by the Plain Dealer's Mary Schmitt Boyer. No interview has been scheduled. 
Jackson returned to ESPN/ABC as a color analyst shortly after being fired by Golden State, but will be let out of his contract if he wants to pursue an opportunity to return to the sidelines. 
Cleveland has reportedly interviewed many candidates, including Adrian Griffin, Alvin Gentry, Mark Price, Tyronn Lue, Lionel Hollins and Vinny Del Negro. After winning an Israeli league title with Maccabi Tel Aviv, David Blatt announced he would be leaving to pursue a job in the NBA. He is scheduled to interview with the Cavaliers next week, acccording to the Plain Dealer.
Jackson declined to comment about Cleveland, but he's an interesting candidate. He changed the culture in Golden State and completely turned around the defense there. The Cavaliers could use that sort of makeover, though that was what Mike Brown was supposed to do, too. 
Ingram has become one of the team's go-to players with Lonzo Ball sidelined with an injury

Giannis skipped EuroBasket last summer, and has missed four games this season with knee so...

Some of the best and worst from the league as we head into the home stretch of the season
Cuban acknowledged that tanking is 'brutal' and that he will no longer do that after this...

Cho has been the GM in Charlotte since 2011

Fergie: 'I'm a risk taker artistically, but clearly this rendition didn't strike the intended...