Reports: Cavs still don't know what to do with No. 1 pick
It's draft day, and Cleveland reportedly might take Jabari Parker, might take Andrew Wiggins and might trade the first overall pick.
• 1 min read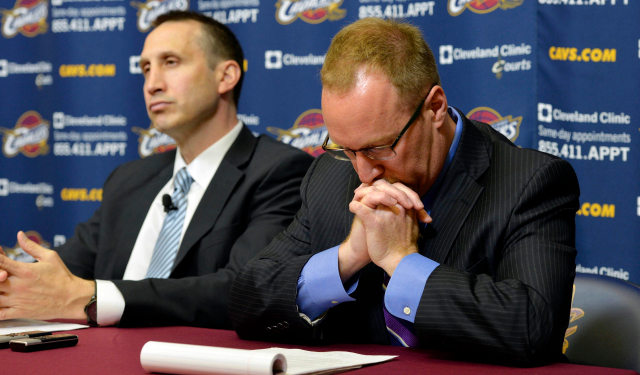 More draft: Mock drafts | Draft order | Prospect rankings
The Cleveland Cavaliers own the first overall pick in the 2014 NBA Draft, and reportedly are undecided on what they're going to do with it. The draft is hours away.
Cleveland Cavs extremely active in the trade market in the past 24 hours for the No. 1 overall pick. Still torn on Wiggins/Parker.

— Jeff Goodman (@GoodmanESPN) June 26, 2014
Sources: Cavs were calling around offering teams Orlando's picks at 4 & 12 for players last night. Interesting

— Chad Ford (@chadfordinsider) June 26, 2014
Magic would take Jabari at 1 I'm told. But deal isn't done. Cavs were just gauging value of 4th & 12th pick. Sixers also upping offer for 1

— Chad Ford (@chadfordinsider) June 26, 2014
Oh, Cavs. This is so Cavs. The selections of Tristan Thompson, Dion Waiters and Anthony Bennett in the last three years were all surprises, and, though this is a different front office, it's looking like there's a possibility Cleveland could render all mock drafts meaningless as soon as the festivities get underway. Wednesday, the team reportedly attempted to get Dante Exum to fly in for a workout and interview on a private jet.
There's no way to know, however, if the Cavaliers are really torn between Andrew Wiggins, Jabari Parker and a trade. They could have settled on a player, but just be trying to see if there's a team that wants to blow them away with a trade offer. No one knows for sure what they're thinking, and that's part of why this is going to be so much fun. 
Bagley wants to be in the 2018 NBA Draft and should be the No. 1 overall pick

Durant helped build the court in Manhattan as part of his community outreach program

Prince will be a special assistant to Memphis GM Chris Wallace
He speaks out at a LeBron James Family Foundation event; he tweeted about Charlottesville on...

Smith was at the event to support his Cavaliers teammate

Trade talks involving Irving have seemingly stalled in recent weeks